A look behind the scenes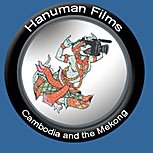 This coming Saturday (11 April) at 7pm is the first-ever
Hanuman Film Night
and it will take place at Meta House (near Wat Botum) in Phnom Penh in order to provide a taste of some of the diverse film and television work that the company has been involved in since it began in 2000. If you are planning a shoot, they're the ones to get things done here in the Mekong region, whether its scouting and managing locations, getting permissions, providing extras, building sets, transport, costume, you name it, they've done it on countless productions all over the area. Their initial claim to fame was doing all the donkey-work to get Tomb Raider filmed in Cambodia, which was no mean feat, though they'd worked on the Lonely Planet Cambodia tv programme before that. Nick Ray and Kulikar Sotho, the two people behind Hanuman Films, will be on hand to introduce examples of their work, to answer questions and to give you an insight into what goes into making the slick documentary, film or advert that you see on the screen. The screenings will include the award-winning Timewatch: Pol Pot (BBC, 2005) and the Top Gear Vietnam Special (BBC, 2008) together with two shorts: selected parts of the 2001 film Lara Croft: Tomb Raider, the first Hollywood film for 36 years to be set in Cambodia, and a recent Pepsi Commercial that went global.
Also showing at Meta House this coming Friday (10 April) will be the second screening of Beth Pielert's
Out of the Poison Tree
documentary that follows Thida Buth Mam and her sisters on their voyage of discovery to Cambodia. It's a 7pm start, so if you missed the first screening, make sure you attend this one.
Labels: Hanuman Films, Out of the Poison Tree