Jolly on a jolly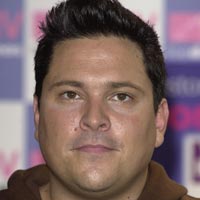 In Phnom Penh at the moment is the award-winning British television comedian and journalist
Dom Joly
(pictured), as he reveals in his column today in the UK-newspaper The Independent. Known for his edgy off-beat television shows like Trigger Happy TV, he's also written several books and is a regular columnist for The Independent, Sunday Times and Mail On Sunday in the UK. He's currently in Cambodia doing research for a new book he's writing called The Dark Tourist, which may also become a television series in due course. In his column today, which you can read
here
, he takes an irreverent look at Cambodian sport. Here's a taster:
I am in Cambodia doing "research" for a book I'm writing about my passion for travel to dodgy places. I'm visiting "The Killing Fields" tomorrow and today, I'm bizarrely off to see a man who is selling Pol Pot's shoes and loo. I've had my fill of dark depressing subjects in the last week or so and I decided to have a little look at the world of Cambodian sport.
The truth is it's a pretty minimalist area. They do play football here but they are spectacularly bad - so bad that most people support foreign teams. Their national football team was supposed to go to the Beijing Olympics but, according to rumours, the powers that be used the tickets to send their families there on a jolly. The only real sport of any consequence here is kick-boxing. I know this sport as Thai kick-boxing but call it that here only if you want to lose your teeth. Here it's Cambodian kic-boxing, but it is exactly the same. Bouts are shown regularly on TV and the gambling is intense.
He also might need to watch his dentures when he talks so disparagingly
about Cambodian football too! But that's the risk you take when you set yourself up for edgy, off-beat journalism.
Labels: Dom Joly