French indulgence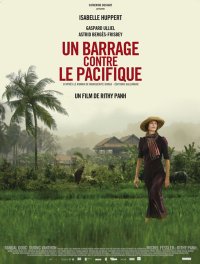 Talking of film directors, I just saw the most talked about Cambodian filmmaker, Rithy Panh at the Bophana Center when I popped along to see
The Sea Wall
for the first time. He was standing outside, talking quietly on his mobile (isn't everyone these days) as the audience filtered in. He didn't say anything, or introduce his film, he was just there and of course, no one recognised him at all. He doesn't know me from Adam, though we've emailed a few times, so I didn't bother him and joined the rest of the crowd in the small auditorium, to watch the near 2-hour film adaptation of a Marguerite Duras novel, set in 1920s southern Cambodia. Beautifully shot in and around Ream national park, with the lovely Cambodian countryside and waterways as its magnificent backdrop, it's a love story with the land, as one widow and her two adult children struggle to overcome the odds to make ends meet. They ultimately fail as the film takes us through a history lesson of French colonial indulgence whilst the Khmers are treated as servants and lackeys, as was the way of the French in Indochina. It didn't blow me away as a film but it was a pleasant way to spend a couple of hours, even though the bench-pew seats at Bophana were very uncomfortable.
Next Saturday, 11 April (4pm), the Bophana Center (on Street 200) is to screen
The Continuum: Beyond the Killing Fields
, a mix of classical dance, music and shadow puppets centered around the story of survival, of a certain Em Theay and four other dancers. It was produced in 2001, directed by Ong Keng Sen from Singapore and toured extensively as a stage performance in the US, Europe, Singapore and in Phnom Penh. I've never seen it, so count me in.
Labels: Rithy Panh, The Sea Wall