Do I get a press pass?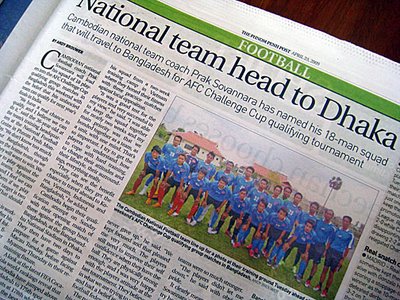 This is the inside back page of today's
Phnom Penh Post
. My story didn't manage to get the back page exclusive, darn it, but my interview with Cambodia national football coach Prak Sovannara, ahead of the country's crucial AFC Challenge Cup qualifying matches next week, will provide some much-needed background to the forthcoming games for the English-speaking audience in Cambodia. The PPP posts its articles from today's paper online later tonight and you can read the full expose then. Here's the
link
. I will also post the full interview with Sovannara - the PPP article is a condensed version - tomorrow. Back in England I used to write regular football articles for the Western Daily Press, Gloucestershire Echo and other newspapers, as well as short match reports for the Sunday Mail, Sunday Mercury and others. This takes me back to those heady days. One of my photos also appeared yesterday in the online edition of the French-language newspaper
Cambodge Soir Hebdo
.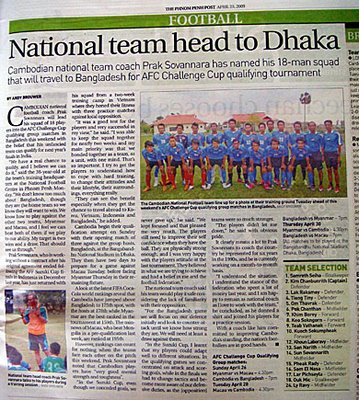 Labels: Cambodia football, Phnom Penh Post