Defeated but not down

If you believe the Bangladeshi press reports then their team fully deserved their success over Cambodia in last night's AFC Challenge Cup qualifying encounter, played in the Bangladesh capital Dhaka. As I didn't see the game myself, I can't agree or disagree, though the Cambodia national coach,
Prak Sovannara
(pictured),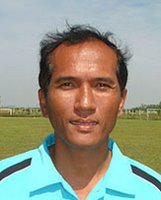 has given me his version of events by email, and they paint a somewhat different picture than the syndicated press reports. Bangladesh scored the game's only goal in the 73rd minute, a header from close range following a free kick. That one-goal separated the two teams, who are neck and neck in the FIFA world rankings, but it may not signal the end of Cambodia's hopes if they can win their next two games. The group winners will automatically go through to next year's finals, but so will the best ranked of the runners up from the four qualifying groups, so its important that Cambodia keep their sights firmly on winning their remaining two matches. And that's certainly what coach Sovannara is looking to do. "I was pleased with my players attitude and I am confident that if we keep doing all the right things, and can be more creative, we can win the next two games. We will need to score more goals against Macau and if we win the next 2 games, we still hope to qualify, depending on the other results."
As for the match against Bangladesh, Sovannara expressed his disappointment with the final result but was pleased with how his players performed. "My players put on a good performance from start to finish. They showed a good team spirit, good discipline and a great attitude against the hosts. We kept our focus, even when we went 1-0 down and if we had taken our chances the result could've been different. If we keep doing that, we will succeed. The players followed my instructions, but they showed too much respect to Bangladesh and I want them to be more creative in the next games. I will change the team against Macau for tactical reasons as we need to play more offensively with three strikers and two supporting from midfield and on the flanks from full-back as well. Pok Chanthan suffered an injury in the first game and the other changes I made in the game were tactical. I believe we can still win the next two games."
How did he view the Bangladesh game? "The Cambodia team played well according to our game plan and strategy. My starting eleven were selected since the training camp in Vietnam, though I changed it after half an hour and took off Vathanak, to give more cover to the defense and to create more options down the flanks. We allowed Bangladesh to have the ball, so we sat back and then counter-attacked as soon as we got the ball, especially down the flanks where the opponents were weaker. We were unlucky when Laboravy missed a great 1-on-1 situation with the goalkeeper just before half-time. The 0-0 score at half-time was a good platform for us." The second-half showing from Cambodia was much stronger as the coach explains. "After assessing our opponents, we changed our tactics and attacked more, again along the flanks and we put more pressure on them when we lost the ball. This improved our play and we got two good chances through Sokumpheak and El Nasa, but didn't score. I also made a switch with Sokngorn replacing Borey. But we lost a goal on 73 minutes when we made a mistake in a dangerous area and they scored from the free-kick. I immediately replaced Narith with Ravy and despite being a goal down, we stayed focused and fought well but we couldn't recover the goal." The result has left Cambodia needing two wins to have any hope of qualifying, and their first test will be against the minnows of Macau on Tuesday afternoon in a must-win game for Sovannara and his Cambodia squad.
Labels: AFC Cup, Cambodia football, Prak Sovannara