Away days in Saigon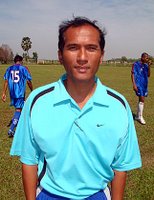 The football players of the
Cambodia national squad
are currently making last-minute preparations for their forthcoming AFC Challenge Cup qualifying games that begin this Sunday. Part of their build-up to the three matches they will play in Bangladesh has been a two week training camp in Vietnam. Saigon to be precise. The squad of 22 players and the coaching team led by national coach Prak Sovannara (pictured) departed for their upmarket Thanh Long Centre HQ on 6 April and returned on the 19th, having played three practice matches and gelled together as a unit, with nine new faces in the squad from their previous serious competition in the Suzuki Cup last December. Thanh Long is a private sports centre in Ho Chi Minh City that boasts a swimming pool, medical centre, five pitches and accommodation, which is where the Cambodian team stayed. The three matches they played were against Vietnam's best club, The Cong from Hanoi, which Cambodia lost 6-2, against a team of Cameroonian professionals, with a 5-2 scoreline in Cambodia's favour, and a final 2-2 draw against HCMC Club (formerly Saigon Port). Sovannara was particularly pleased with the outcome. "The results don't matter so much as playing together as a team and a unit. It was a good test for the players and very successful in my view. I was able to keep the squad together for nearly two weeks and to work with them very closely."
Time away together like the Vietnam trip is a godsend to a squad like Cambodia, particularly as the players have recently been involved in Hun Sen Cup action and their time with the national coach has been disrupted and piecemeal. Sovannara took the opportunity to reinforce one of his favourite coaching tools, video-replay. He's used this before especially with the Suzuki Cup games, as well as videoing some of his own training sessions, and then the practice matches in Vietnam. "It's something I'm very keen to use to get the players thinking on the same lines. It's been very successful - they can see exactly what I mean and I have seen them change and improve as a result. We sit down in the evenings as a group to watch the video and discuss everything, not only the football itself and tactics, but also lifestyle and attitude on and off the football field."
The V-League in Vietnam now has more than 70 foreign players, with 40 from Brazil and 20 from Africa, including the Cameroon professionals who played against Cambodia. Indeed two Brazilians are now qualified to play for the Vietnam national team and this is something that has been mooted in Cambodia in recent months. There has also been lots of discussion about Cambodians in countries like France and America coming back home to play for the national team. Sovannara was in favour. "I will welcome them if they come here for a long period of time, to get used to the conditions and the style of play, and if they are better than the players we already have. There's a lot of talk about it right now." At the moment, 37 foreign players play in Cambodia, 14 from Nigeria, eight from Cameroon and four each from Thailand and Vietnam, with other countries like South Korea, Ghana, the Congo and Sierra Leone also represented. Mind you it was only two years ago that Cambodia banned expat players from the Hun Sen Cup for being 'too good.' Sovannara is also very much in favour of current Cambodia Premier League players seeking fame and fortune abroad. "I would love some Cambodian players to play abroad. I try to motivate them and instil confidence in them that they are good enough to compete with the likes of the best players in Vietnam and Thailand," he said.
Labels: Cambodia football, Prak Sovannara