Stories of Cambodia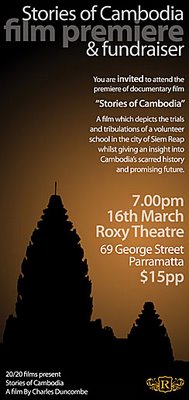 How many budding filmmakers come to Cambodia and put together their own documentary? I reckon there are quite a few out there, for instance I recall attending a screening in the UK a couple of years ago now by two young guys straight out of film school and here's another twentysomething film student who has produced his own independent documentary, filmed exclusively in Cambodia. 22 year old Charles Duncombe and his girlfriend Larissa Kalnins came here early last year to document the trials and tribulations at a volunteer school in Siem Reap in their film
Stories of Cambodia
. The film will get its premier screening in Australia on 16 March and you can find out more about it
here
.
Staying on the film front, I've just got a copy of the March program at
Meta House
and the highlight for me will be Saturday 14th March and the first-ever showing in Cambodia of
Out of the Poison Tree
. It starts at 6.30pm. Don't miss it, especially as I was the one who persuaded the filmmaker Beth Pielert to screen her film here. It gives Cambodians a voice about the Khmer Rouge period and the current trials, so its very relevant to today. What else catches my eye during the month? Well, there's a mix of Cambodia-linked films, with Burma, the rainforest of Borneo, Vietnam and much more. Of the former, Changing the World on Vacation, this Saturday looks promising, as does We Want You To Know!, a film project featuring rural Khmer Rouge survivors by Ella Pugliese (Sunday 22nd). The Dey Krahom evictions aren't forgotten and Erik Lofting's Red Earth Village film will be shown on Wednesday 25th, whilst Stanley Harper's evocative Cambodian Dreams gets a re-run on Saturday 28th. One of the exhibitions coming up soon that will capture Phnom Penh through the eyes and paintings of Chhim Sothy and Ian Whittaker is The Life of The Streets, which kicks off on 31 March. Meta House is next to Wat Botum on Street 264 and deserves your support.