Raised eyebrows
I was a mite surprised to hear of the commemorative monument unveiled in Kien Svay district yesterday in remembrance of the KPNLF fighters who died between 1979 and 1991. It flies in the face of the current CPP leadership and their close allegiance to Vietnam, hence my raised eyebrows. Thank goodness they didn't put it next to the Cambodia-Vietnam Friendship Monument! The KPNLF (
The Khmer National Liberation Front
) were dedicated to ousting the Vietnamese forces who took control of Cambodia after they expelled the Khmer Rouge in early 1979, as well as the People's Republic of Kampuchea government - who later became the CPP - that they installed. In forming a coalition with the royalist FUNCINPEC and the Khmer Rouge forces that were pushed to the Thai-Cambodian border area in 1979, the KPNLF kept alive a guerrilla war on and around the border areas that carried on through the 1980s and garnered support from Western countries like USA, Britain and others, including China, primarily because of their opposition to Vietnam.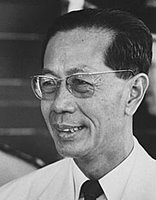 The aim of the KPNLF was to see a democratic Cambodia, though as their rather strange bed fellows in the Coalition Government of Democratic Kampuchea they chose the Khmer Rouge, perhaps the least democratic group of murderers on the planet at that time, and the royalists led by the former king, Sihanouk. The KPNLF founder was a former prime minister, Son Sann (pictured,
TIME Inc
), who was held in high esteem as a statesman, vehemently anti-Vietnamese and who, alongwith Sihanouk, were the acceptable face of the coalition, so much so that they were allowed to hold the Cambodian seat at the United Nations. Much of the guerrilla war in the 1980s was fought from the border camps, with the KPNLF's largest source of supporters being in camp Site 2 which they controlled. The newly-unveiled monument holds the inscriptions of the names of KPNLF resistance fighters who died between 1979 and 1991. Next time I'm out that way, I'll pay a visit.
Labels: KPNLF