Meet Song Kosal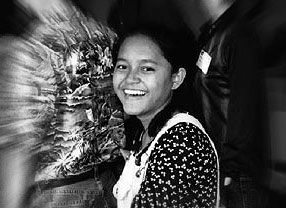 Meet Song Kosal
: One afternoon, at age six, Song Kosal's life was changed forever. While working in the rice paddies with her mother in Bavel village, Battambang, she stepped on a landmine. Kosal's right leg was severely injured and had to be amputated. She now walks with the assistance of a single crutch.
When she was 12, with the support of the Jesuit Refugee Service, Kosal became active in the Cambodian Campaign to Ban Landmines. After campaigning extensively in Cambodia, she traveled to Vienna, Austria in 1995 and spoke to government officials at the Convention on Conventional Weapons. She was the first person to sign the 1997 Mine Ban Treaty in Ottawa, Canada, and was present in Oslo, Norway, when the ICBL and Jody Williams were jointly awarded the Nobel Peace Prize. "Sometimes I dream that I have two legs again and I run freely in the ricefields, feeling the grass under my toes," says Kosal. "I really wish that soon my friends and I can play without danger, with no more mines in our fields."
Kosal has taken her message to Spain, Australia, Japan, Canada, United States, Thailand, Philippines, Malaysia, Mozambique, Morocco, Belgium, Switzerland and France. She has met with heads of states and dignitaries around the world including the King of Cambodia, Queen of Spain, Queen of Jordan, and the US Secretary of State. She has given addresses at the Hague Appeal for Peace and Meetings of States Parties. She created the Youth Against War Treaty and presented the over 263,000 signatures collected to the Bush administration in 2001 in an effort to influence the US to join the Mine Ban Treaty. That same year Kosal was named ICBL Youth Ambassador.
As ICBL Youth Ambassador, Kosal represents youth campaigners and survivors at events worldwide. Kosal has succeeded in putting a face to the many lesser-known child landmine survivors around the world. In her role as ICBL Youth Ambassador she continues to raise awareness around the world, while pursuing her university studies in Phnom Penh. Song Kosal has dedicated her life to creating a world free of landmine dangers.
Labels: Song Kosal