All smiles at Olympic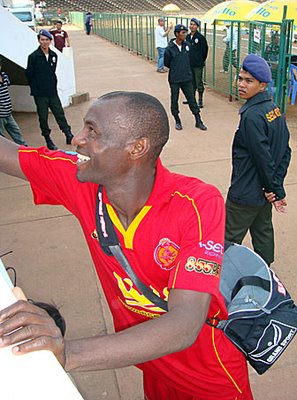 All smiles for hatrick hero Jean-Roger Lappe Lappe. You can tell he's an important asset - he's surrounded by security personnel
Saturday afternoon is reserved for football here in Phnom Penh and so it was off to the Olympic Stadium to watch the two semi-finals of the
Hun Sen Cup competition
, a precursor to the start of the Cambodia Premier League. There's quite a bit of money on offer for the winners and all the professional teams here go into the hat with the lesser lights, so there's always that chance of a giantkilling. However, this year's cup semi-finals came down to the four best teams with Phnom Penh Crown the obvious favourites. They won the league and cup double last year and look set to do the same this season too. In Jean-Roger Lappe Lappe they have a Cameroonian striker who has power, pace and quality finishing skills and he was the dominant factor in the first of the two semi's yesterday. His hatrick sealed a 4-0 win for his fancied team against Preah Khan Reach, who are no slouches themselves with four national team players in their line-up, but on the day they were no match for Lappe Lappe and his teammates. Barring a disaster, they may as well pick up the cup now instead of waiting for the final on the 28th - just kidding. In the second semi, Naga Corp saw off the navy boys from Phuchung Neak, 2-0, in a closer encounter, but still a little one-sided. So the final will be Phnom Penh Crown (formerly Empire) and Naga Corp and should pull in a good crowd on Saturday 28th March.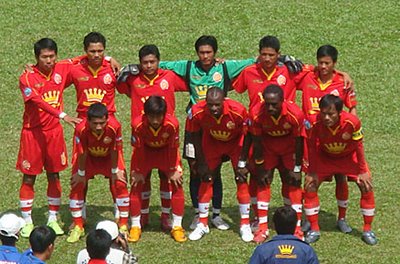 Phnom Penh Crown line up before the semi-final. Their team included national players Chan Rithy, Thul Sothearith and Teing Tiny.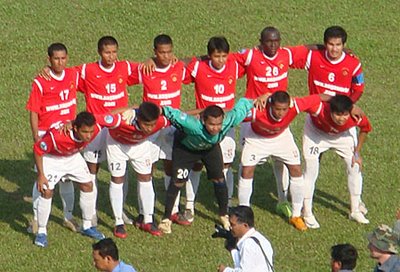 The other victorious semi-finalists, Naga Corp. They included national team captain Kim Chanbunrith and Sun Sovannarith.
Perhaps more importantly, I had a brief chat with the Cambodia national team coach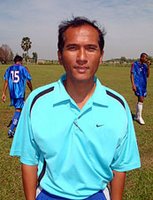 Prak Sovannara
(pictured) who was casting a watchful eye over members of his national team that were playing on the pitch below. With the AFC Challenge Cup qualifying group games coming up in Bangladesh very soon, he's already got his squad together, five days a week, putting them through their paces and expects to take a squad of 18 players to the three-game tournament next month. With three of last year's squad retiring, he's called six new players into the training camp, including two from Phnom Penh Crown and a striker from Naga. The matches will be against the hosts Bangladesh, Myanmar and the winners of Macau or Mongolia, who will play a pre-qualifying decider beforehand. If I can fit it in, I'll try to pay a visit to one of the national team's training sessions next week.
Labels: Cambodia football