Sea Wall screenings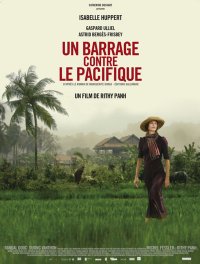 Your first chance to see Rithy Panh's latest feature-length film offering,
The Sea Wall
, here in Cambodia, will be upon us soon enough. The French Cultural Center (St 184) are screening the film, in French with English subtitles, on four consecutive nights, beginning on 4 March at 7pm. Entry is free. Panh is Cambodia's best-known international film director and launched his latest work,
The Sea Wall
(Un barrage contre le Pacifique), at the Toronto Film Festival towards the end of last year. With critically-acclaimed films such as S-21, Rice People, Burnt Theatre and lots more under his belt, he has moved into more mainstream cinema with his newest work adapted from a classic French novel and including the successful French actress Isabelle Huppert amongst a strong cast. The photo above reminds me of the Oliver Stone film Heaven and Earth which included Cambodian actor Haing Ngor amongst its cast.
Postscript:
On Monday 2nd March there will be an exhibition opening at 6pm called 'The Making of the Sea Wall' at the Bophana Center on Street 200. The film itself will show for 4 nights from the 4th March at the CCF though tickets can be collected from the Bophana Center beforehand, just to make sure you get a seat at one of the 4 screenings.
Not in French but in English, though it'll be delivered by
Christophe Pottier
, the head of the French-based EFEO in Siem Reap, will be a talk on Friday evening (27 Feb) titled, 'Dating Temples: histories of styles and style of history?' at 6.30pm at the EFEO offices alongside the Siem Reap River. I am kicking myself that I won't be there to listen. Definitely my bag.
Labels: Christophe Pottier, Rithy Panh, Sea Wall