Reggae explosion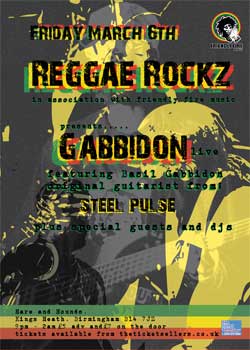 Live reggae music was a staple part of my diet when I lived in England and I miss it. But just because I'm not there anymore, doesn't mean I can't flag events that I really recommend you get along to. Friendly Fire Music is an events organizer, a record label, a music studio and a collective of reggae musicians, singers and DJs. In that guise they are hosting, at the Hare & Hounds pub in Kings Heath, Birmingham, on Friday March 6th, 9pm, one of my favourite bands,
Gabbidon.
Their mix of old school and up to date reggae, roots and ska, with a smudge of rock guitar by Basil himself is sure to sell out quick, so get your tickets early. Click
here
for more info.
Later in March, Friday 20th, Friendly Fire will also host at the Hare & Hounds, Capital Letters, the legendary 8-piece UK roots band formed in the late 70's in Wolverhampton. As one of the first bands to be ever signed by Greensleeves, they released a hit single Smoking my Ganja which to this day remains a very sought after 12 inch release. They've now reformed and will play their first gig in nearly thirty years next month.
Link:
Gabbidon