No more silence
Breaking the Silence
is the latest offering from Amrita Performing Arts here in Phnom Penh and will be performed on Saturday and Sunday, 21 and 22 February at the
Exhibition Hall, opposite the new Parliament Building on Sisowath Quay.
This new work incorporates theater, poetry, music and dance based on memories recounted during interviews conducted with a wide range of Cambodians who lived during the Khmer Rouge regime.
Veteran Dutch director Annemarie Prins, who staged the successful 3 Years, 8 Months and 20 Days play, will return to stage the play which will then tour the Cambodian provinces, reaching out to those of whom the work is about. The performance will feature the same three actresses Kauv Sotheary, Morm Sokly and Chhon Sina
from the 3 Years play as well as a musician, singer, dancer and three young Cambodian visual artists who will create the scenic elements. It will be in Khmer with English subtitles.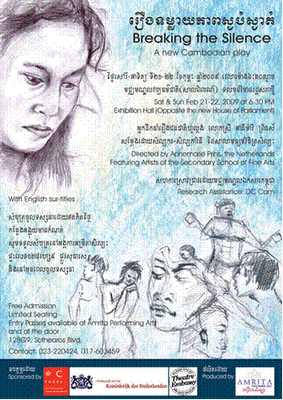 The
Amrita
Performing Arts
nonprofit organization was formed in July 2003 as part of the revival and preservation of Cambodian traditional performing arts. Based in Phnom Penh, they have continued to develop their repertoire whilst expanding it to include contemporary expression in dance, theater and music. Many of the artists involved with Amrita's projects come from the University of Fine Arts - both students and teachers and the three actresses who will take part in the play are all at the University. To read more about the activities of Amrita, click on:
APA
. To read a blog about the play, not all in English, click
here
.
Labels: Amrita, Breaking the Silence