Meta House in February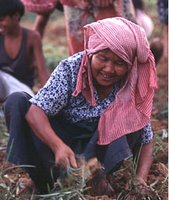 So what are the highlights as I see it, at
Meta House
in Phnom Penh for this month? This Saturday (7th Feb), Stanley Harper's twenty-year work,
Cambodia Dreams
, chronicling the life and times of grandmother Yan Chheing (pictured right), will show. Well worth the effort, as are a number of screenings this month. Take for example, Thursday (12th) and Friday (13th) next week. In the news recently has been the destruction of the community of Dey Krahom, so
Red Earth Village
by Erik Lofting will take on special significance (will show Thursday), as will Rithy Panh's
Paper Cannot Wrap Embers
, a documentary about prostitues living in the White Bassac Building next door, to be shown Friday (7pm). Wednesday 18th will see a documentary on confronting the Khmer Rouge legacy by Jan van den Berg and Willem van den Put called
Deacon of Death
and Friday 20th, you have two films to enjoy, Socheata Poeuv's
New Year Baby
and the classical dance documentary
Seasons of Migration
. The fomer king, Norodom Sihanouk gets a screening of two of his films from the '60s, on Saturday 21st with
Shadow Over Angkor
and
Rose of Bokor
. I also recommend
Vietnam American Holocaust
on Tuesday 24th, a film produced last year that gets under the skin of the conflict, which coincides with the opening of a new permanent exhibition of pictures at Meta House by veteran war photographer Tim Page. Don't forget, Meta House is on Street 264, next to Wat Botum.