Don't miss these
A quick reminder of some events taking place today and the next few days. At
Meta House
(St 264 near Wat Botum) tonight (Friday), there's the dual screening of New Year Baby, the 80-minute search for family secrets by Socheata Poeuv, followed by Seasons of Migration, showcasing the work of classical dance teacher Sophiline Cheam Shapiro. English language films start at 8pm. Tomorrow night, Saturday, same venue, are two films by the former King, Norodom Sihanouk, namely Shadow over Angkor (1968) and Rose of Bokor (1969), but don't expect great filmmaking, instead, enjoy them for the period pieces they are. Start 7pm.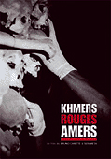 Tomorrow night is also the first performance of the theatre art work
Breaking The Silence
, by Dutch director Annemarie Prins and Amrita Performing Arts. It promises to be something very special, dealing with memories and experiences from the Khmer Rouge period, and after the two weekend performances, will be taken on the road to the provinces. It starts at 6.30pm, at the exhibition hall opposite the new National Assembly building and tickets are free. If you can squeeze it in, there's a film about how the Khmer Rouge saw themselves at Bophana Center at 4pm tomorrow as well. Its called
Bitter Khmer Rouge
(Khmers Rouges Amers), by Bruno Carette and Sien Meta, but the downside is that this version is in French.
An exhibition worth a visit is a display of traditional paintings by artist
Chhim Sothy
at the Dept of Fine Arts on Street 63, which will run until the end of the month. Next week at Meta House, veteran war photographer Tim Page will be around to open his new permanent exhibition of some of his photographs at 6pm on Tuesday 24th, the same night as the documentary Vietnam American Holocaust by Clay Claiborne, which looks like a very interesting 90-minutes worth of viewing.
Link:
Bitter Khmer Rouge
.
Labels: Amrita, Breaking the Silence, Chhim Sothy, New Year Baby, Tim Page