Cry For Freedom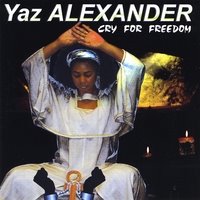 She's back with a nine-track stop-gap mini-album to keep us in the groove before her next full-to-brimming third album in the Summer.
Yaz Alexander
is my favourite female singer on the planet. She has a beautiful voice, perfect pitch and a delivery style to knock your socks off. I really miss not being able to see her perform live. It's a cross I have to bear living in Cambodia. However, I can still listen to the music, which is available on CD Baby. Her latest offering is the mini-album
Cry For Freedom
and has all the usual beats and bass lines, meshed with her reggae roots background and complemented by her seductive voice. It's a stop-gap because she's on course to release her next blockbuster later this year, following the release of her incredible debut solo album, Life Begins, in December 2007. The tracks on Cry For Freedom are: Cry For Freedom; How Much More; Enemies: Life; Better Must Come; (Do) The Right Thing; Cry For Freedom (Soulful House Remix); Love; Sister.
She isn't stopping there either. In between laying down tracks for album # 3, she's recorded a new R&B song called Days of Thunder, which she'll put out with a video, has some more gigs lined up including support for Mighty Diamonds in Birmingham, and every Monday she puts on free singing workshops with young gifted Birmingham singers, aided by Steel Pulse's Selwyn Brown when he's not on tour. Giving back to the art that has given them so much is in Yaz's and Selwyn's blood.
Link:
CD Baby
.
Labels: Cry For Freedom, Yaz Alexander