Catch-up
To give you a breather from my posts on my epic bicycle ride around the walls of Angkor Thom (which seems never-ending to me so goodness knows how you feel about it), I wanted to catch-up with a couple of items. The Oscars came and went last weekend and Steven Okazaki's documentary film
The Conscience of Nhem En
(or lack of conscience would be more appropriate) didn't make it into the winner's envelope. Nevertheless, it has received great reviews and should be aired on television sometime soon in the States. If Steven would like to send me a copy of the dvd, we'll get it shown in Phnom Penh too. Steven I mean it, send me a copy. Meanwhile, Nhem En continues to seek money from anyone who'll give him some, for his Khmer Rouge museum in Anlong Veng.
On the subject of showing documentaries in Phnom Penh, Beth Pielert has despatched her
Out of the Poison Tree
film to me and with the help of Nico from Meta House, we hope to show the film on Saturday 14th March. I'll confirm it as definite once I have the dvd in my sweaty palms. This will be the first showing of this intriguing documentary in Cambodia so I hope it'll draw a big crowd of interested onlookers, especially with the currency of the Khmer Rouge trials so high at the moment. More to follow - I hope.
One of my favourite people is the renowned Angkor scholar
Dawn Rooney
. I count myself as very fortunate to have known Dawn for many years now and she has always been a mine of information and helpfulness personified. In a mini catch-up, she tells me she's recently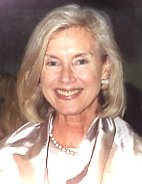 completed her latest book, Khmer Ceramics, Their Beauty and Meaning, which has just gone to the publishers, following on from her last book, Ancient Sukhothai, Thailand's Cultural Heritage, published by River Books. When she's not lecturing, in her spare time, she's part of the Thai-Cambodian team on the Living Angkor Road Project and has just joined the Board of Trustees for the Center for Khmer Studies in Siem Reap. Another friend is due in town tomorrow, namely
Denise Heywood
(pictured), lecturer, journalist, photographer and author of the new book Cambodian Dance, as well as one on Ancient Luang Prabang. She will give an illustrated talk on her new book at Monument Books on Norodom Boulevard on Thursday 5th March. I know from experience what a wonderfully evocative speaker Denise is, so I urge you to attend.
Moving away from Cambodia and onto music, I informed you about
Yaz Alexander's
new 9-track mini-album Cry for Freedom
here
with its focus on roots and culture reggae, though Yaz is a woman for all seasons and her next album is already in the works, with a release date of October, and which will contain elements of soul, r-n-b, hip-hop and jazz, with productions from Sly & Robbie, Montell Jordan and Beres Hammond likely. Also in the works are three forthcoming concert appearances; 7th March at International Women's Day; 4th April with Mighty Diamonds, both in Birmingham, and 12th April with Beres Hammond and Maxi Priest at Wolverhampton.
Labels: Conscience of Nhem En, Dawn Rooney, Denise Heywood, Out of the Poison Tree, Yaz Alexander