What's on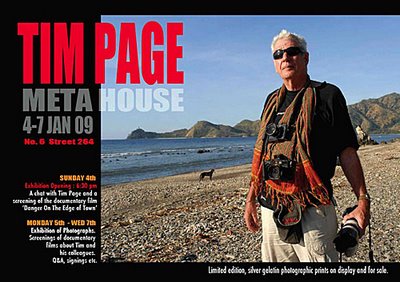 Events coming up in Phnom Penh include veteran Vietnam War photographer Tim Page's exhibition of photographs, as well as documentary screenings, Q&A's and so on at the
Meta House
, beginning this coming Sunday (4th) from 6pm. Also at Meta House from Saturday 3rd will be a collection of drawings titled Raining at Preah Vihear by Battambang artist Srey Bandol, who already has his drawings in print by Reyum in the book Looking At Angkor and another book aimed at children, In The Land of The Elephants. The 6pm opening on Saturday will be followed by a film/photo presentation of fellow artist Vandy Rattana.
Over at the
Bophana Center
on Saturday 3rd, a 4pm screening of a documentary on the late Cambodian artist Svay Ken will take place, in Khmer but with English subtitles, followed by another film, Two Neighbors.
Wednesday 7th is a national holiday here in Cambodia (Victory over Genocide Day). It will actually be the 30th anniversary of the fall of the Khmer Rouge regime and I'm sure this landmark occasion will be acknowledged by a plethora of documentaries on tv but the main celebration of the anniversary will be at the
Olympic Stadium
in the city, where it's expected over 60,000 people will attend a mass rally. There's some grumbling here that 20,000 students are being forced to attend and it's little more than a rally in support of the CPP, but I'm sure the kids will enjoy their day off school, I know I used to. I loved the comment from a CPP lawmaker who said pointedly to the opposition whiners; "Only those people with a mental problem oppose Jan 7."
Labels: Khmer Rouge, Svay Ken, Tim Page