January 7 hang-over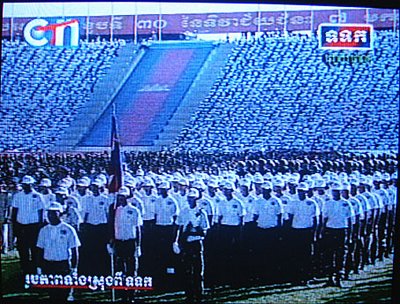 A scene from the Olympic Stadium this morning, courtesy of CTN. The stadium was packed out with over 60,000 people, and I missed it!
Damn it. I had a ticket for the
January 7
mass celebrations at the Olympic Stadium today but overslept and missed the start of the event at 7.30am this morning. I know all about the arguments for and against the celebration of this anniversary - it's 30 years since the Khmer Rouge regime was ended in Cambodia and the ruling CPP party are using the occasion to celebrate the work they have done in developing the country and achieving national reconciliation, whereas opposition voices say the demise of the Khmer Rouge only served to commence a decade of Vietnamese occupation - but I still wanted to experience it, but turning up late was not an option, so I watched it on television for a short while and then came to work. My alarm didn't work but it also didn't help that I was out late last night. I'm not a regular on the bar scene in Phnom Penh but my pal Eric was in town and as I missed his recent wedding party, the least I could do was join him and his wife last night. We kicked off at Meta House to have a look over the Tim Page photo exhibition - Eric is a professional photographer himself and has recently moved his business to Siem Reap - then we enjoyed a Chinese meal at a restaurant on Monivong before heading for the riverfront to commence our party-animal lifestyle with an expresso coffee at El Mundo (yes, we really know how to party) before installing ourselves at the bar of a nearby drinking outlet. I can't blame Eric for missing the Olympic gig this morning, but he was a contributing factor.