Fruit on wheels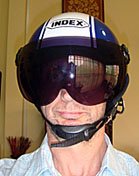 I saw some parallels here in Phnom Penh when I read this story on the press wires yesterday. Okay, so the locals haven't yet begun to ride around town with makeshift crash-helmets but if the prices rise steeply, then watch out for some ingenious ways around the road law. At the moment cheap helmets can be bought for as little as $3 on almost every street, though they'll probably give you as much head protection as a piece of dried fruit! Other similarities of course include the erractic motodops and bribeable police.
Improvised helmets in Nigeria
Police in Nigeria have arrested scores of motorcycle taxi riders with dried fruit shells, paint pots or pieces of rubber tire tied to their heads with string to avoid a new law requiring them to wear helmets. The regulations have caused chaos around Africa's most populous nation, with motorcyclists complaining helmets are too expensive and some passengers refusing to wear them fearing they will catch skin disease or be put under a black magic spell. The law, which came into force on January 1, pits two factions equally feared by the common motorist against one another: erratic motorcycle taxis known as Okadas, whose owners are notorious for road-rage, and the bribe-hungry traffic police.