Damp squib
The arrival of the
new year
turned out to be a disaster for the organizers of the open-air party at Hun Sen Park in front of Nagaworld in Phnom Penh tonight. They sold tickets for a princely amount for a garden buffet to some, whilst the average-joe reveller turned up to watch the music stars for free but at a distance, only for everyone to be disappointed by the inclement weather. It rained as I arrived a little before eight o'clock and then bucketed down for nearly an hour before I decided to call it a day, already drenched through to the skin. Sat at home watching television instead, the rain began again around 10pm and is still going strong now, a little after 12.30am. Talk about rain stopped play, on this occasion, rain completely washed out the new year celebrations. The once immaculately laid-out buffet tables were a waterlogged shambles as the musicians and dancers took shelter under the stage back-drop, the television crews huddled together under makeshift umbrellas and the security personnel left their posts to avoid the driving rain, retiring instead to the adjacent food stands. The Apsara tv channel saw the new year in with a classical dance performance, where I spotted my friend Sam Savin as one of the dancers, whilst I chose to watch one of those silly Pirates of the Caribbean movies. It's now 2009 and a new year full of wonderful experiences I hope for us all and I wish my readers a successful and happy new year.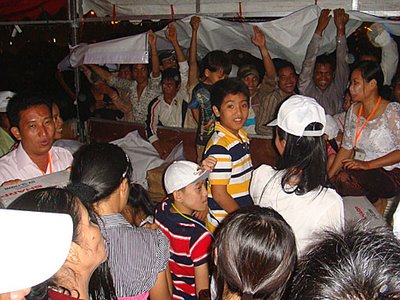 It's standing room only as the new year revellers shelter from the rain inside a stall

Staying on the damp squib front, the conservative nature of Cambodia shone through again with the decision to postpone tonight's 2nd showing of the Where Elephants Weep rock-opera on the CTN channel after the Ministry of Information ordered the station not to air the programme. The Ministry had received a letter of complaint from the Supreme Sangha Council of Buddhist monks who have taken exception to the portrayal of monks in the opera and have demanded apologies from all concerned. They don't seem to grasp that it's make-believe (though a musical rock-opera is something new for them to comprehend I grant you) and that consderably more damage has been done to the general perception of monks in Cambodia by a series of violent attacks and a rape in recent months by members of their order. Such a pity that this new development in the performing arts in Cambodia should be clouded in such controversy.
Labels: Where Elephants Weep