Teenage hero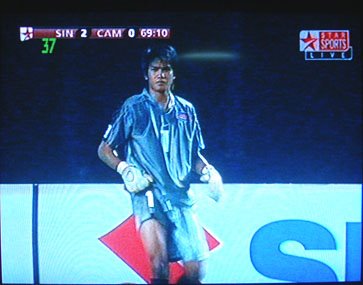 The teenage hero Samreth Seiha against Singapore
According to the roster of players for last year's SEAsean Games, the hero of Cambodia's two games in the AFF Suzuki Cup so far, goalkeeper
Samreth Seiha
won't be 19 until April next year.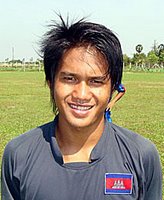 If that's the case, then his performances are more exciting than I first thought. The fresh-faced teenager has played out of his skin in both games and half a dozen saves in the second match against Indonesia showed the hallmark of an excellent stopper, saving with his feet, his hands and his body. Despite his small stature and fragility against the bigger-built strikers he regularly faces, Seiha (right) is an agile and athletic goalkeeper with a penchant for coming for crosses and punching anything he can get his hands to, though he came unstuck for the first goal against Singapore, when this tactic backfired. Nevertheless, he is as brave as a lion and though he spends more time on the floor injured than most keepers I've seen, I think he shows enough promise to make a real name for himself amongst Asia's leading goalkeepers in years to come. What he really needs in my view is some time at a pro club in England. For starters, I would suggest a 3-month training stint with one of the top clubs, receiving expert specialist coaching as well as a diet of steak and potatoes to put on some bulk. Wouldn't it be great if one of the money-men in Cambodia recognised his talent and agreed to pay his airfare and living expenses for a few months - I'm sure one of the leading clubs would take him on, especially if they watched the video of the Indonesia match. This youngster has bags of talent but he needs expert coaching that only a Premiership club in England can provide.
Team-mates of Samreth Seiha in Cambodia's youth international squad that reached the semi-finals of the Asean youth championships in Brunei at the beginning of 2007 included the teenage strike-force of Khim Borey and Kouch Sokumpheak. All three are still teenagers and the experience they will have gained in the Suzuki Cup in Indonesia will be enormous. Also in that same squad were international team-mates Lay Raksmey and Sok Rithy.