Seng's survival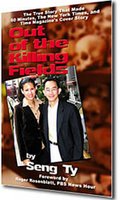 I've been a bit light on new books about Cambodia in recent weeks as nothing has come within earshot, either in the throes of being published or in the near-completion stage except a survivor memoir by Seng Ty. His book should be out sometime next year and will tell his story of surviving the Khmer Rouge years whilst his mother and brothers died of starvation and his father was murdered.
Out of the Killing Fields
is being co-authored with Michael Jan Friedman and will go onto tell how he was adopted by a family in Massachusetts in 1982 from one of the border camps. His story was featured in a book called Children of War by Roger Rosenblatt in 1983 and in 1999 he was persuaded to film his return to the village of Tuk Cho where his parents both died, for the American CBS 60 Minutes programme. Today Seng is a schools guidance counsellor and lives with his family in Lowell.
As a postscript to the above, Kilong Ung has been in touch to let me know that the manuscript for his personal memoir,
Golden Leaf: A Khmer Rouge Genocide Survivor
, has just been finished and he's looking for a publisher to get his autobiography out before the end of next year. Kilong lives in Portland, Oregon and made his way to America in 1979 after surviving the Khmer Rouge regime when he lost both parents and many family members. He's now a software engineer and has a long list of civic involvement under his belt including four years as president of the Cambodian–American Community of Oregon. Whilst on the subject of survivor memoirs, does anyone have any information on a book by Champ S Teng called
Cambodia, As I Remember: The True Story of a Beautiful Country Under War
. Champ lives in Dallas and is another survivor of the KR time who made his way to a new future in America in 1979.