Penny for my thoughts?
The local French-language newspaper Cambodge Soir Hebo has been talking to Ouk Sethycheat (the Football Federation of Cambodia's Secretary-General) about Cambodia's performance in the Suzuki Cup. Here's what he had to say:
"The Federation has invested money for the team. The three games were defeats, despite the efforts for players' salaries as well as their physical preparation. More than half the players are paid 1 million riel per month ($250), other 750,000 riel (about $190), with a daily bonus of $15 per player for food. That was paid throughout the period of preparation and competition. Sponsors have supported us. But the final result is completely negative. Like other nations, the coach has carte blanche to form the team and is therefore responsible for its results. The Executive Committee will consider the arguments from Prak Sovannara on the poor performances. We'll see then whether to change or make greater changes in the team. Fans are disappointed and say it is worse than before, while other countries are progressing."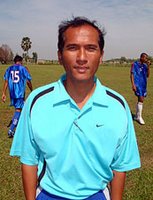 With their record for making changes, I sense a distinct whiff of unhappiness from the Federation's executive committee. Coach Prak Sovannara (pictured) is the only A-listed coach in the country, so he's the best homegrown coach they can have. And he only took over in July. If they feel a change is required, then they will have to look outside Cambodia's borders for a new coach. They've tried it before of course with their previous three coaches namely Joachim Fickert, Scott O'Donnell and a South Korean coach but it didn't work then either.
I suggest its time for consolidation and to give Sovannara a fair crack of the whip. He took them to their first AFF finals for a few years and whilst the results went against Cambodia, they simply don't play enough international games to be confident when they come up against better prepared and physically stronger opposition, especially the likes of Singapore and Indonesia. Sovannara hasn't yet had time to work properly with his young squad of players, he needs the Federation to back him and his judgement, not to cut him loose after half a year in the job.
Okay, there were some players in the line-up that I personally would look to replace but its whether there's anyone suitable and better in the domestic league. All of Cambodia's players play in the domestic competition, so maybe it would help their development if they were to branch out to other leagues in the region. Certainly keeper Samreth Seiha is good enough and I would suggest that Sun Sovannarith, Khim Borey and Kouch Sokumpheak also have enough about them to play in a higher-standard league in a neighbouring country. It would certainly benefit their personal development and have a beneficial knock-on for the national team as well.
The Federation need to do their bit by getting a suitable program of international friendly fixtures lined up for 2009, before the SEAsean Games take place in Laos at the end of next year. That will mean a few games against neighbouring countries but they should also enter Cambodia for any of the other regional tournaments that take place. And if possible, get some professional teams from the J-league or S-League to pay a visit (even better get a British Premiership team over here, which Vietnam are doing) and give the national team some different opponents and options. I can see South Korea looming large in the picture as the Federation has received funds from that direction, and that is all well and good, but I hope they will expand their horizons a bit beyond Korea.
So stick with Sovannara, give him the resources and opportunities he needs to develop his very young squad, trust his judgement and allow him to make mistakes (because he will) and to experiment as long as there are enough signs that the national team is improving. Don't hold the axe over his head and don't keep talking about money. There's enough rich people in Cambodia who could be tapped for cash to support the team. If Cambodians can take pride in their national football team, then everyone will feel good about themselves. It can easily be an important part of raising Cambodia's profile as football is one sure way to inject even more pride and passion into Cambodian hearts and minds. And to have a Cambodian at the helm is even better.
Despite all of this, I fear my plea will fall on deaf ears.