Cry No More Christmas Cracker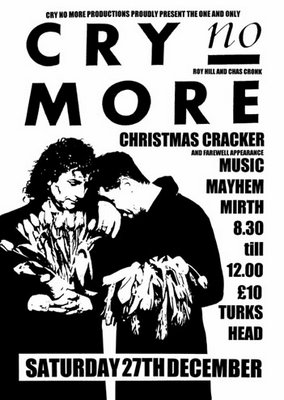 Christmas wouldn't be Christmas without a
Cry No More
Annual Farewell Appearance and this year's festive frolics will take place on Saturday 27th December at the Turks Head in the beautiful town of Twickenham (England). Admission, a mere 10 British pounds, is an absolute bargain. The raffle will be drawn by local Rotarian, Neville Niblett and features some stunning prizes including a hat with a little pocket on the side for pencils. It's the kind of thing you can wear round the house or when sailing. I made it myself. It really is something to treasure, the plywood alone cost 15.80 British pounds.
This year's show will feature a number of support acts including Dolly Parton, Bjork, Coldplay, Fatboy Slim and The Brian Rizla Experience. The half time bingo session will be great fun as usual and the raffle prizes are better than ever, including a cruet set, three bottles of vinegar, doilies and a stuffed bear, as well as the hat with a side pocket. Unfortunately, Betty Winstanley, who became a great-grandmother this year, congratulations Betty, will be unable to perform her much loved pole dancing routine due to advancing arthritis. Shame. I've had a number of emails asking why, as it's such a tremendous night out, we don't increase the admission charge. The reason is quite simple, we're not just international showbiz celebrities, we care.
Santa Claus, Santa Claus
A weirdo with a beard
He comes down people's chimneys
He's sick and rightly feared


Merry Christmas!
Roy Hill
Myspace
Labels: Cry No More, Roy Hill