Book-signing take 2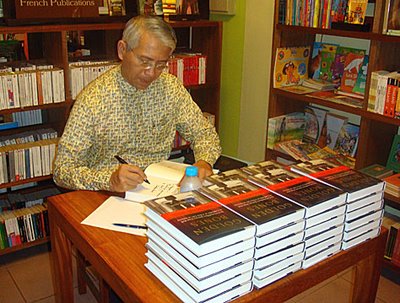 Sichan Siv signing copies of Golden Bones last week. A 2nd book-signing will take place at Monument Books tomorrow.
With the airport fiasco in Bangkok putting so many travellers' plans into complete disarray, one of the people to suffer from the Thai propensity to shoot themselves in the foot, was
Sichan Siv
, the Cambodian-born former US Ambassador who was over here visiting friends and promoting his memoir, Golden Bones. Last Saturday a book-signing event at Monument Books on Norodom Boulevard went so well that the shop sold out of all its copies. New stock has just arrived and in the meantime, Sichan Siv and his wife Martha have been on a visit to Ratanakiri whilst the troubles at Bangkok continued. They are now back in Phnom Penh and a second book-signing event has been organized at Monument, which will begin at
5pm tomorrow
(Saturday 6th), so get along if you haven't got a copy of this remarkable success story and take the opportunity to meet the man himself.
Tomorrow is another busy day with lots happening. I've got tickets for
When Elephants Weep
at the Chenla Theatre at 6.30pm, even though I managed to get a free invite to the VIP performance last week. I'm looking forward to seeing this remarkable show again. It has certainly raised the bar in terms of staging a professional musical opera and the sort of work that can be achieved here in Cambodia. There's been a wave of enthusiasm for the show carried along by the excellent PR juggernaught that saw the name of the opera plastered literally everywhere. I hope the arts scene in Cambodia is able to maintain and nurture this massive increase in interest from both the expat and Khmer communities.
I may not have time to see it but the documentary
Seasons of Migration
will be screened at the Bophana Center on Street 200 at 4pm tomorrow (Saturday). Choreographer Sophiline Cheam Shapiro, artistic director of the Khmer Arts Academy and a leading player in reviving classical dance, will be present to introduce the event.
And if you have time, get along to the
Sovanna Phum
show at their HQ on Street 360 at 7.30pm for a performance of their new work, Hanuman, combining large shadow puppet theatre with classical dance and orchestra. Not to be missed. Sovanna Phum are under serious threat of closure and it would be a travesty if this is allowed to happen. I urge you all to support their work by attending their shows and doing whatever you can to help them maintain this vital cultural treasure.