Q & A with actress Sophea Pel
One of the most eagerly-awaited feature films, when it's finally completed, will be The Golden Voice by American director Greg Cahill. He's already produced a stunning 25-minute short film that tells the latter stages of the story of Cambodia's most famous and much-loved singer Ros Sereysothea. The darling of Cambodia's music-loving populace, Sereysothea was murdered in the Khmer Rouge genocide of the 70s but has left an indelible mark on Cambodian society where her records are still avidly played today. The star of The Golden Voice movie is actress

Sophea Pel

, who earned rave reviews for her portrayal of Sereysothea, her first serious acting role, and will play the singer again in the feature film once director Cahill has gathered together the necessary funding. I caught up with Sophea by e-mail to delve a little deeper into her own story and that of the film itself.
1. Can you describe your feelings when you watched the 1st public screening of Golden Voice?
When I saw the first screening of Golden Voice at CSULB (hosted by the Cambodian Student Society in Long Beach), I was overwhelmed with tears of happiness, seeing the result of our hard work, seeing how many people came to watch it, and very moved by the movie itself. [The premiere was on 28 October 2006 and was attended by over 400 people at California State University Long Beach].
2. What did you feel, portraying Cambodia's greatest ever-female star on screen?
I was very excited and at the same time felt pressure to do my best. It was a dream come true for me. And it still hasn't hit me that I'm portraying a person whose voice I've adored and whose songs I always sing along to. I had no idea what RSS (Ros Sereysothea) was like as a person and I worried that I may not measure up because she is such an iconic figure. I felt proud that I had the opportunity to play my favorite female singer.
3. Let's start at the beginning - when and where were you born?
I was born in a village called Chnuorh, Battambang (it is now in Banteay Meanchey province), not far from Phnom Leap in December 1979.
4. Can you give me a few childhood memories of growing up in Cambodia?
I remember quite a few things:
a) playing in the rice field and as a result got bit by a leech. My dad had to come and remove it from my ankle.
b) My grandpa playing his favorite songs on the tape player. After years past, I still remember the songs when I hear them.
c) I remember seeing many people gather together for Khmer New Year and my family sneaking away from the crowd and into the jungle towards Thailand and the refugee camp.
d) Being at a mini celebration in the village and remembered this one particular song by a Khmer singer that I'd often sing when I was around 5 years old. My cousin told me of the time when I would sing that song to her in the village. When I went to Cambodia in 2006 she told me what the song was and it all came back. I still remembered the first line of the song, 20 years later - I guess that was my first interest in singing.
5. What special significance does Battambang hold for you and your family? [it was of course Sereysothea's birthplace too.]
It holds significance because I believe it's the place where my mom and dad got displaced to after the Khmer Rouge. It's where I was born, followed by the rest of my younger siblings. There was a lot of history of struggles to survive after being raised from the dead during the Pol Pot regime, much like everyone else in the country. Most of my parent's friends and neighbors prior to 1986 still live in Chnuorh and having gone back in 2006, made me realize how fortunate I am.
6. When, why and how did your family move to America?
In 1986 my family left Battambang via the jungle/forest to Site 2 in Thailand with the advice of my uncle who resides in the USA. We settled in Site 2 until 1989, and then went to Chunburi, Thailand for almost another year until coming to California in 1990. My uncle and aunt from my dad's side sponsored my family to the US, not long before the refugee camp closed. We came to the US, I believe not just for a better future but also for our safety. Things were not going well in Battambang; men still went off to fight a battle that I'm unsure of.
7. Can you describe the difference, the culture shock if you like, of moving and living in the US?
As a kid to a new environment, things were definitely different. I was most fascinated with escalators at the airport and that there were different colors to people. I was in a cleaner environment where life seems more predictable and planned out; waking up at a certain time to go to school, eat at a certain time, etc. One of the challenges that I faced was the feeling of being lost; my communication was limited, learning to interact with other ethnic kids. I did not talk much in school because my English wasn't good enough yet. It probably took me about a year to adapt with the encouragement of my dad's family and the school system that placed me in ESL classes.
8. When did you begin to feel 'at home' in California?
I'm not quite sure but I would say some time in school. By then, I had a better understanding of what life in the US is about and more control of my own life. I started working in high school and I also started driving. When I started opening and socializing, I knew that I was comfortable with my surroundings, and therefore, felt like it was home.
9. How quickly did you learn to speak English?
I would say that it took me about a year to learn conversational English because my cousins' here didn't speak much Khmer. I learned a lot of English and they learned a lot of Khmer from my siblings and I.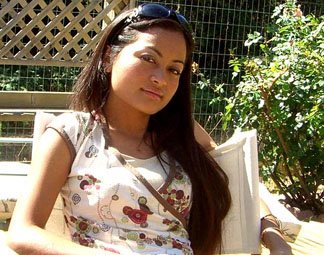 10.What was the catalyst for your singing career - when did it all start?
I don't consider it as a singing career; to me it's more of a hobby and once in awhile I get to show off my hobby on stage. The catalyst was after the filming of the Golden Voice. I found out about Dara Band through Narin Pot (who played Chenda in the film). She introduced me to the band members; after observations and thinking about it, I decided that I would join. There were previous bands that asked me to join too, but I didn't want to, either because they were not right for me or it could be that the timing wasn't right.
11. Tell me how your singing has progressed - a timeline if you like?
I think at the age of 4 or 5 in Cambodia, songs started to capture my attention. When my family went to the refugee camp in Thailand, we did not have access to music, but when I was about 9 years old I started to be exposed to Khmer music and I would sing along. At the age of 10 my family emigrated to Long Beach, California and 'til then I would always sing along to any Khmer music that I got to listen to. At the age of about 16, I asked my mother to buy me a karaoke machine, which I practiced with a few times a week. Then in 1998 (at age 18), I joined a karaoke singing contest, winning first prize, with the highest score. In 2004, I entered into another contest in Long Beach and took another first. In summer of 2006 I joined the Dara Band, performing at weddings and parties once in a while.
12. Tell me about your current singing activities?
There are not much singing activities at this point because I have been busy with work and more involvement in a play. I'm helping out backstage and also a little onstage with the play "Song of Extinction". I don't have a speaking part, but I believe that the experience I gain will help me in the future.
13. You also study classical dance - tell me more about that?
In late 2005 I joined Khmer Arts Academy. There were a few dances that I learned and also performed in public with my group. Nowadays, I'm not very involved due to time commitments.
14. What other interests and hobbies do you have?
Nowadays, I try to make more time for drawing (mainly still life and realistic art). I also love to crochet; that is what I'm trying to do now. I also love photography. Besides those hobbies, I also play pool, pretty decently too.
15. What are your current musical preferences/favorites?
My music choice has always been Khmer oldies, especially that of Mrs. Ros Sereysothea. I love singing along with her beautiful voice. I love any romantic/sentimental English songs too.
16. How did you land the part of Ros Sereysothea in Golden Voice?
I heard about the casting for the film through a post made by Director Greg Cahill on Khmer.cc. I checked out the source and waited for a few days before emailing. By then, I saw the casting post on a Khmer newspaper called Khemara Times. That's when I decided to email Greg. A few days after getting two scenes and two songs down, I went in for the audition. I was extremely nervous but hopeful at the audition. About a week after that, I received the call from Greg saying that I had got the part. That was one of the highlights for year 2006 for me.
17. How aware were you of her place in Khmer history?
I was aware that she was a great singer prior to the Khmer Rouge era and that she was murdered by Khmer Rouge. Other than that, I didn't know much else because as we know, many records have been destroyed during the atrocities.
18. How did you find the experience of acting for the 1st time on camera?
The experience of acting on camera for the first time was new but I felt comfortable about it. Before I was used to doing things only once, but when it comes to film, I had to try to get used to repetitively filming the same scenes from different angles. The challenge that I overcame was trying to keep the emotions the same. The days of filming were long, but I knew that I had to always try my best to reap good results.
19. How different do you think acting in a full-length movie will be?
I think it will be a bit different, but I think my experience in the short film will help prepare me for the feature film. I know that there will be longer workdays and I that I will be put to the acting challenge of being exposed to new events in her life, new emotions, etc. I'm looking forward to the opportunity to show my ability.
20. What other experiences do you have on screen, television or stage?
I have been in a church Christmas play called Bethlehem A.D. playing the role of Virgin Mary. Recently I was a background person on the NBC show called Medium. Currently, I'm involved in a play called "Song of Extinction" by EM Lewis. For the next month and a half I will be playing a non-speaking role as a mother and helping with moving props on and off stage, at the Ford Theatre in Hollywood, CA.
21. Please tell me about your academic and working career?
I attended California State University, Long Beach. I have been working in Long Beach for almost 10 years as a computer technician.
22. Finally, what direction do you want your career to take?
As far as my acting career, I would love to be in more films (short or feature), plays, TV shows or simply background work and put my face out there. I would like to join the union and also get an agent soon. As for my working career, I hope to keep working and also doing more work in the film industry.
To view the movie's website, click here