Pulse posters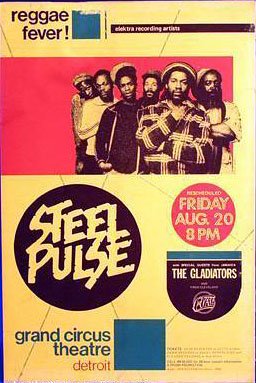 Steel Pulse headlining in Detroit in 1982
Don't stop me, I'm on a roll with the Steel Pulse posts. I just came across a couple of Steel Pulse posters from bygone years and as a sucker for the history of the band I have a duty to bring them to your attention. My unofficial website on the band has many such priceless artifacts waiting for you to peruse. Click on
Steel Pulse On-Line
for more of the same.
The top poster is from a concert by Steel Pulse on 20 August 1982 at the Grand Circus Theatre in Detroit, USA. The bottom poster shows the band as support artists for Herbie Hancock on 22 September 1984.
To finish, below is a photo of the regular Steel Pulse band members around that time, though without Grizzly Nisbett or the two regular female singers, Donna Sterling and Sylvia Tella in the picture, it's hard to tell exactly when the photo was taken.