Feeling glum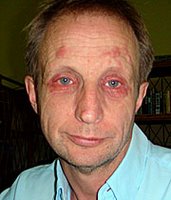 I'm sat at home feeling glum and very sorry for myself. I can't even go out without people pointing at the human panda. I visited the doctor last night - three hours in the waiting room at his house - and even he was taken aback by how bad I looked. He immediately put me on ten tablets a day (Cambodia's answer to everything) including steroids for the next five days then ordered me to return to see him. Fingers crossed this helps to turn the corner as my skin and face is not a pretty sight. So you get the picture as to what I'm on about, here's a photo of me just before I visited the doctor yesterday. Sorry if anyone is eating when they read this! The skin around my eyes, wrists and on my forehead is dry and flaky and the doc says it's inflammation of the skin (dermatitis) caused by a reaction to something. All I know is that it's as itchy as hell.
Anyway, enough of my moaning and groaning. To cheer myself up I always visit
Roy Hill's
MySpace website to see if music's funniest (much of it is black humour) man has posted anything new. Hey presto, he has! Here it is and here's a link to Roy's excellent MySpace
site
.
Nov 11th: The curate's egg
Thank you to everyone who came to the Turks Head on Friday for a real curate's egg of a show. I may have to start preparing setlists that are actually setlists, but where's the fun in that? On to Boxford next - Nov 22nd - sadly the final date of a most enjoyable world tour. It's been a really hectic schedule - seven shows in seven months - and I deeply regret having taken only two pairs of socks.
Highlights? The opportunity to meet some of the people who send me abusive emails, soaking up foreign culture, particularly East Horsley, bumping into the Dalai Lama in Homebase, Postsmouth, and walking unnoticed through Wigan disguised as a policewoman.
I really miss watching Roy in action. It's one of the few things I miss about dear old Blighty.