Food for thought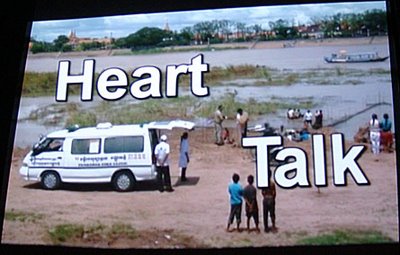 This is the opening scene from the brand new movie,
Heart Talk
by Khmer Mekong Films showing a woman's body being hauled out of the Tonle Sap River opposite the Royal Palace in Phnom Penh. It's KMF's second feature-length film and they took the opportunity to test the water with a preview audience screening at Meta House tonight. The moviegoers were asked to complete questionnaires at key points of the screening and their input will give KMF some food for thought before the production is finalized, ready for its introduction to Khmer cinema fans. As for the film itself, it was set in Cambodia's capital at a fictitious radio station, where two women presenters disappear and the male employees are in the frame before a final twist in what was a well-paced thriller-whodunit, led by Saray Sakana as Maly, the heroine and Pov Kisan as Heng the detective, better known as a comedy actor. Having the film set in various locations around the capital added to the interest for me and with some finishing touches here and there will see a film that local audiences should enjoy.
Postscript:
A mug-shot of me at the screening appeared in Monday's Phnom Penh Post in a page of
Around Town
mug-shots. I didn't look happy about it!