An aid to being responsible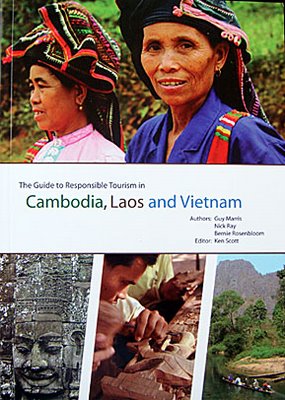 Responsible Tourism is one of the latest buzzwords that we hear, especially in a country like Cambodia, where it's almost a dirty expression to be just a tourist, you need to be responsible, pro-poor, green or an advocate of eco-tourism and so on. To help us understand more about this latest fad and to identify some tourism activities or projects that visitors can get involved in whilst in and about the Mekong region, a new booklet, the 148-page
Guide to Responsible Tourism in Cambodia, Laos and Vietnam
, has been published. In it, 88 so-called responsible tourism activities are described from the three countries of the lower Mekong area, with 28 from Cambodia ranging from the PEPY Ride, to the Starfish Bakery in Sihanoukville to the circus in Battambang, Phare Ponleu Selpak. You'd think such a booklet would be free, following the example set by the Stay Another Day publication that promotes sustainable tourism and overlaps in many areas, but the latest guide is only available from the Ministry of Tourism for the pricely sum of $15. That's just plain crazy - I can't see many takers at that price. The Cambodia section has been written by Nick Ray of LP fame.
I am just back from the very geeky
BarCamp Phnom Penh
, held at the Foreign Languages University campus and very well-attended by a nice cross-section of expats and Khmers, eager to soak up the IT vibes radiating from every corner. It was an all-day informal affair so I turned up for the free lunch and the early afternoon sessions, one of which, 'how to date a Khmer girl', was of particular interest. Other more earnest presentations were on offer, most of which went way over my head, but were lapped up by the IT-savvy computer nerds in attendance. Nice to meet a few fellow bloggers at the type of event that will undoubtedly enthuse and excite those thirsty for new technology.