Roy Hill - My Life In Showbiz - part one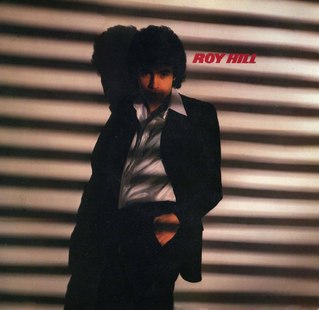 Roy Hill
is quite simply one of the most talented people I've ever met. I thought he was brilliant when I first saw him in 1978 and he's even better today. He's a genius. His comedic bent is as good as his musical ability. And he's a genuinely nice guy. Here's a glimpse into the mind of the man in this serialized 'My Life In Showbiz' memoir he's penned on his Myspace website:
In 1974 I wrote three songs.
In 1975 I won a heat of the Melody Maker Rock Contest and figured I must be the new Dylan. Yaaaaahooo! Fame and an indecent fortune beckoned. I wrote more songs, played floor spots in a Cheltenham folk club, formed an ad hoc band, the Strolling Players, made my first demos and hawked the tapes around record companies and music publishers. A chance encounter with Freddie Mercury was most helpful.
'The soloists' section was won convincingly by Roy Hill whose original compositions, 'Join Me' a bitterly ironic song about a potential suicide, 'Living On Memory Lane' a savage and hilarious look at a family living in a nostalgic wonderland and the poignant 'Still Waiting' revealed him to be a writer of substantial talent.' Allan Jones: Melody Maker.
In 1976 I signed with Arista Records and Island Music. Bingo! Arista would make me a star, Island would ensure my songs were recorded by the worlds' major artists. Hurrah! I wrote excitedly, made more demos, played bigger stages with the Strolling Players and prepared for life as a pop icon.
'There were demo tapes by Roy Hill that sounded good enough to release; tough, spare, inexorable urban laments full of sexual and social grief.' Donald Clarke: The Rise and Fall of Popular Music.
In 1977 I recorded my first album with former Elton John producer, Gus Dudgeon and a host of top session men. It was as an expensive and overblown affair but it would have been churlish to complain when I was the only one there I hadn't heard of. Any hope of working with some Strolling Players was dashed by Gus's ability to locate and destroy unknown musicians from a distance of several miles. Saxophonist, Bimbo Acock, survived by disguising himself as Lulu. An appearance on So It Goes provided brief respite from anecdote hell. It's impossible to do justice to the very colourful time I spent with 70's superstar producer and all-round megalomaniac, Gus Dudgeon, in this brief guide. Shame.
In 1978 the daringly named and much hyped Roy Hill was released to a critical mauling. A newly assembled Roy Hill Band supported Strawbs and Styx on UK tours, recorded a session for the John Peel Show and appeared on Revolver. Club and college dates attracted further withering disdain. Two singles, Marionettes and Georges Bar, sank without trace. Nothing was going to plan but it was fun. What plan? The year ended with a trip to Canada where Roy Hill was more politely received.
Georges Bar ...'diluted calypso drivel.' NME.
'Hill scores nil.' Des Moines: Sounds.
'Roy Hill has all the excitement of Julie Andrews singing with her head buried in a bucket of sand.' Donna McAllister: Sounds.
In 1979 as I continued touring to a chorus of howling disapproval my next offering I like I like I like, produced by Davy Rohl, became ... an NME single of the week! A second John Peel session was followed by a live set on Radio One's In Concert with Dire Straits and three sell-out shows at Riverside Studios in London. The reviews got favourable, the tide was turning. Happy days were here again.
'I like the way Roy Hill takes the piss out of rock and roll's sexual mores, social manners, tribal customs, etc ... and what I would really like is for the rest of the world to quit this Roy Who? bullshit and recognise the geezer as one of our greatest songwriters with no eyebrows raised.'
Tony Parsons: NME.
'A band able to handle any number of mood shifts as their employer goes cavorting off round the stage.' David Hepworth: Sounds.
'I haven't enjoyed a rock show so much for ages. How can such a man fail to become a star?' Dave Gelly: The Observer.
In 1980 I was dropped by Arista and Island, a chastening experience, and just when everything was going so well. Ex-Arista General Manager and staunch ally John Cooper helped me look for another deal, nothing doing. A reputation as a sharp tongued prima donna with a propensity for biting the hand that fed me didn't help. Dazed and probably drunk I joined a version of Strawbs which included four members of my own band. Don't ask. Mercifully for everyone involved it only lasted three weeks.
I wouldn't wish to give the impression it was all work and no play. I was very open to distractions, really very open. I drank beer once and ran around with my trousers off for several weeks, a frightful business.
'I never thought Roy was much good.' Pat from next door.
In 1981 The Roy Hill Band started playing in pubs. It was fun, but not as much fun as it had been. A single, Vancouver Nights, was released by Attic Records in Canada, From The Bottom Of My Heart, co-written with Chas Cronk, came out on Scratch Records in the UK. They didn't get into any charts, I don't think they actually got into any shops.
It faded, it was gone.
Cue funereal music.
Every Strolling Player, every member of The Roy Hill Band brought something good to the table. Country boys, city slickers, space cadets, funkateers, shy types, awkward types, all types. Some I knew from my teens, some came and went. John Acock was an endless fund of help and goodwill; Bimbo Acock, top man, dynamite player; Bob Critchley, grand companion, great drummer; Chas Cronk and I have been friends and cohorts since 1978; Gary, Richie, Mike, Kevin, Ross, Colin, Jamie, Steve, David, Tony, John, I learned something from all of you and look where it got me. END OF PART ONE.

Link: Myspace