Pocket guide review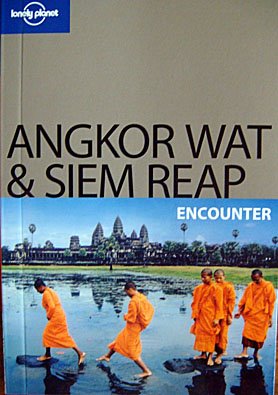 Siem Reap is changing rapidly and to keep abreast of the best the town and the surrounds have to offer, Lonely Planet are publishing a 150-page Encounter pocket guide to
Angkor Wat & Siem Reap
. Written by resident Nick Ray, co-author of LP's Cambodia, it's essentially a handy-sized book of top tips rather than the in-depth look its parent guidebook takes. It's aimed at the short vacationer, written in a witty style, focusing on shopping, eating, drinking and sightseeing, moreso than accommodation. It still has 33 pages on the temples of Angkor, which is afterall why most people visit Siem Reap - the book title should really read Angkor & Siem Reap - and it also branches out with a few excursions beyond the town. Some will say it's cheap and cheerful, in fact I do, but it fills a niche for visitors who will see only Angkor and Siem Reap on their visit to Cambodia and who don't have time to wade through a mass of detail.
It kicks off with a top-six highlights, includes two walking tours as well as interviews with locals such as Nhiem Chun, the famed sweeper of Ta Prohm, Angkor guide Srei Omnoth and scholar Dr Ang Choulean. Here's a sample of Snapshots - Spas & Massages to give you a flavour:
Foot-massage shops are spread out around Psar Chaa and offer a range of remedies for dispirited soles.... Siem Reap is littered with massage shops, but some offer more 'services' than others. Gentlemen should not be surprised to be offered a 'happy ending' in certain establishments, but the amount of make-up caking the face of the masseuse is usually a good indication that traditional massage may not be high on the agenda.
As I said, cheap and cheerful. It costs $12.99, is in full colour and will be published in September.