Prediction time
In a tradition stretching back to ancient times, Cambodia's royal cows predicted the country will have a 'quite good' rice harvest this year. Choosing from plates of rice, corn, beans, sesame, grass, water and alcohol, the pair of royal cows chose rice and corn in front of thousands of onlookers in the capital early this morning at the Royal Ploughing Ceremony. I wasn't there. My alarm clock failed to work. If you get out into the countryside around now, you should see thousands of farmers planting seed. But don't hang about in an open field when it starts to thunder - my tip for today.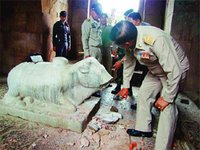 Vandals in Thailand have caused damage to ancient statues at
Prasat Phnom Rung
and moved the Shiva Linga stone at the centre of the temple site off its plinth. Heads of eleven nagas at the stairs to the temple had been broken off. A sacred cow (right), two statues of singha and a statue of the guardian deity at the entrance were also damaged, though only two of the sculptures were originals, the rest were replicas. Theories about who did the damage to the 10th century temple abound but no-one has claimed responsibility and the authorities are no further forward in solving the puzzle. Suggestions that Khmer
sorcerers
are to blame will do little good to Cambodian-Thai relationships, already fraught over the long-running Preah Vihear saga. Phnom Rung is renowned for its quality of architectural decoration and was restored to its current state between 1972 and 1988.