A Woman of the Mekong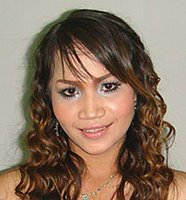 I would like to bring to your attention an article that appeared in a recent edition of The Soroptimist - SWP. It's the monthly magazine of Soroptimist International's South West Pacific branch for business and professional women who want to make a difference for women in the world. The organization has
more than 100,000 members in 3,000 clubs in over 120 countries and territories. The article is about Sophoin (pictured right), a very good friend of mine in Phnom Penh who is being supported by SI with a contribution to her studies. I think they made the absolute right choice when they chose this strong-willed and intelligent young woman.



A Woman of the Mekong

- by Lynn Ciurlionis & Helen Hutchins


Sordy Sophoin at 25 years is the youngest of a family of five born in Kompong Cham, Cambodia. Through determination she completed high school and in 2001 worked as a receptionist at the English School. Part of her remuneration was free English classes. In 2002 she moved to Phnom Penh to live with her older sister who supported her in studying English and a short course in marketing. After a short time in an advertising agency, Sophoin secured a job as a medical representative with Glenmark Pharmaceuticals Ltd. She is proud that she secured this position without prior experience in the industry. On her own initiative she requested the company employ her but if she did not perform they did not have to retain her. In this position, she works for a minimum of seven hours for six days a week and attends the National Management University for six evenings to obtain her degree in management (marketing).

Her salary of US$150 per month is stretched to cover her rent, utilities, studies and support extended family including expensive medical care for her sick father. SI members met Sophoin last year when the Hands Across Borders team was working in Phnom Penh. She impressed us as a woman who had overcome the prejudices of Cambodian society and had set goals to attain an education for herself and her family. Parents there need to value the girl child for more than economic dependency. To us she embodied the ideals of Soroptimism. To help her achieve her educational goals the committee of SI Cambodia, which has been recognised as an NGO, has bestowed its first Performance Award to enable her to continue with her studies in 2008-2009.