On the run
Banteay Chhmar
is worth a few hours of anyone's time, so my sprint around the site for my 1-hour visit was far from satisfactory. I've been there before and I will return again for a much more leisurely visit in the future, but at least this whistle-stop tour gave my work colleagues at Hanuman a taster for what this dramatic temple can offer visitors. I'll talk in more detail about the iconography to be found at Banteay Chhmar in another post, for now, here's a few photos that show the range of reliefs, carvings and of course the incomparable face-towers to be seen at the 12th century temple site in northwest Cambodia.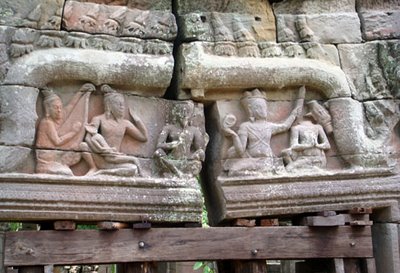 This dramatic scene in the eastern pavilion at Banteay Chhmar shows the slaying of Shishupala by Krishna who was annoyed at the behaviour and insults of the king of the Chedis and cut off his head with a sword (on the right of the photo). On the left a rishi plays a harp, another holds a child in his lap and a third is in the usual cross-legged position. The whole carving is in imminent danger of collapse and is held in place with wooden supports. As a whole, the temple has suffered badly in terms of collapse and much of the site lies in ruins.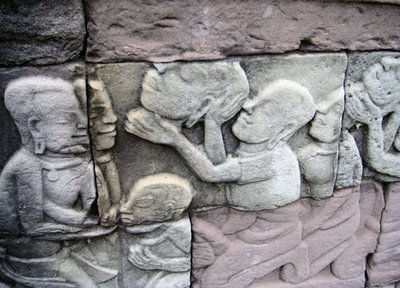 The outer gallery of Banteay Chhmar is covered in bas reliefs showing a mix of historic events with religious and mythological scenes. Much of the carving shows the victorious battle between Jayavarman VII and his enemies, the Chams. It also includes the renowned reliefs of the multi-armed Lokiteshvaras. In the picture above, from the southern gallery, the severed heads of two enemy leaders are being held aloft and presented as war trophies to the victors. Unfortunately much of the outer gallery has collapsed and a lot of work needs to be done to piece this jigsaw back together again.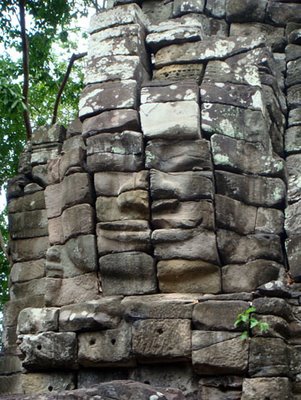 Banteay Chhmar is also famous for its giant faces. There are quite a few face towers still in situ, with more at satellite temples nearby that are often overlooked by visitors. However, its precarious state was clearly highlighted when one of its face towers collapsed in 2004. Above is one of the remaining face towers within the main complex.