Love Music Hate Racism
This Sunday - 27 April - to mark the 30th anniversary of the watershed Rock Against Racism festival held in Victoria Park, London in 1978, another massive carnival and festival will be held at the same location. One of the successes from the 1978 carnival,
Steel Pulse
, are unable to appear due to prior commitments but have been involved in several activities in the lead up to the event including a collaboration with other artists on a song based around their own Jah Pickney track. They also took part in a press conference in Birmingham with UB40 and Yaz Alexander last week and another press session with UB40 and Don Letts. This year's festival is being held under the new banner of Love Music Hate Racism. To read more about the original carnival, click
here
.
Here's a report from the Birmingham Post of the press conference with Steel Pulse, UB40 and Yaz Alexander. In the photo, Yaz is centre front row with Selwyn and David from Steel Pulse on left of back row: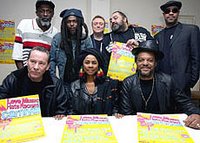 Multi-cultural UK is a success say UB40
-
by Gemma Boland and Helen Turner
Birmingham's chart-toppers UB40 have spoken out against Enoch Powell's controversial 'Rivers of Blood' speech on its 40th anniversary. Powell's infamous speech was made on April 20, 1968, at the Midland International Hotel in the city centre. On Friday, UB40 were joined by Mydas and Steel Pulse to celebrate multi-cultural Britain, while stressing the importance of education and the role music can play. Powell had called for an end to anti-race discrimination legislation, predicting "rivers of blood" on the streets of the UK if immigration continued. But Birmingham-born UB40 saxophone player Brian Travers said: "I know we've exported some rivers of blood to Iran and Iraq but I've never seen any on my doorstep."
A few weeks ago, former UB40 frontman Ali Campbell complained that racial tensions had tranformed Birmingham. But Travers criticised a politically-disinterested youth, obsessed with shopping and celebrity. "We live in a violent alcohol-fuelled society unfortunately," he said. "Celebrity culture is killing the kids, it has taken over and you're a nobody if you're not famous." He added: "It's not a big claim to say that music changed things, but we were a politically aware youth and that doesn't seem to be the case at the moment."
Birmingham reggae singer Yaz Alexander believed song lyrics were a powerful way to inform young people. She said: "The reason why I'm here is partly because of the influence of the musical artists of the 70s. I was born in Birmingham and have been influenced by what they went through all those years ago. "Love music and use it as a medium, no matter what your background is," she added. UB40's Robin Campbell highlighted the potential problems the credit crunch might pose. "Whenever the economy goes down, ignorance rears its ugly head," he said.
Steel Pulse member Selwyn Brown, speaking 30 years after playing in the original Rock Against Racism concert, said he believed music could still make a difference in combating racism. Love Music Hate Racism, which sponsored the conference, also promoted its anti-racism festival which takes place in London next weekend. Lee Billingham, spokesman for Love Music Hate Racism said: "Most people remember The Clash, but also Steel Pulse as well. The concert represented the Rock Against Racism movement, which led to the demise of the National Front."