Under lock and key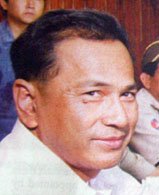 This is former Khmer Rouge military chief of staff
Khem Nguon
, who was charged last week with the abduction and murder of British de-miner Christopher Howes in 1996. Though its eleven years since the death of Christopher and his interpreter Houn Hourth, the slowly-turning wheels of Cambodian justice have finally caught up with Nguon and two other former Khmer Rouge guerrillas - Loch Mao and Chep Cheat- who are now behind bars awaiting trial at Prey Sar prison in Phnom Penh. Arresting Khmer Rouge leaders is the flavour of the month in Phnom Penh right now and though the Cambodian authorities have suspected his involvement in the Howes murder for many years, its only now that the climate is ripe for his arrest, even though he's been living in Phnom Penh and on the payroll of the defence ministry as a Brigadier-General in the Royal Cambodian Armed Forces. I will post more background details on Khem Nguon, also identified in some sources as Ngun, tomorrow.
Photo by Ou Neakry/PPP.
I won't give it too many column inches, but history was made today when Comrade Duch appeared in public in front of the Khmer Rouge Tribunal Court in the full glare of tv, and hundreds of the world's press. Five of the top Khmer Rouge hierachy have now been arrested and charged with crimes against humanity, the latest being the former KR head of state, Khieu Samphan. The Tribunal is really clicking into gear now after so many delays and much feet-dragging, but it's happening and maybe, just maybe, some Cambodians will be able to take comfort that the surviving leaders are finally being brought to task for their horrendous crimes.