Seaton and Spence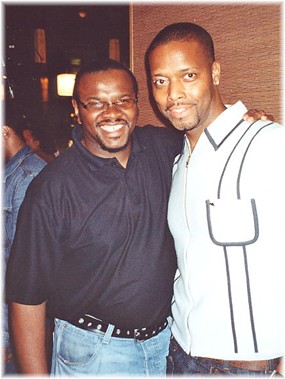 Two of Birmingham's finest singers, and genuine nice guys too, pictured at the Jean Mclean gig at the Ipanema Bar in Broad Street on Sunday night.
Dennis Seaton
(left) was at the mixing controls whilst
Peter Spence
, dueted with Jean on Endless Love. Both have long and successful careers in the reggae scene in Birmingham and internationally. Spence, who excels at writing and performing lovers rock to roots, is a Grammy nominated artist who has just released a new album, Emotionally Charged, and is working on an album of collaborations to celebrate his 20 years in the business. Seaton, who was the lead singer of the chart-topping band Musical Youth and their massive 1982 hit single, Pass The Dutchie, has reformed the band alongwith Michael Grant and they appear from time to time.
This
excellent article, charting the Musical Youth story, can be found in the
comments
section - its well worth reading, trust me.
Links:
Peter Spence
,
Dennis Seaton
,
Musical Youth