Keeping tradition alive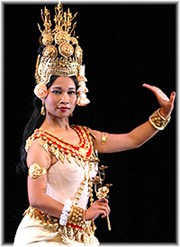 Later this week, at the San Francisco Ethnic Dance festival, Cambodian classical dance master,
Charya Cheam Burt
, will premiere her latest innovative dance piece titled Blue Roses, exploring the life of a Khmer princess, and inspired by Tennessee Willaims' play, The Glass Menagerie. Charya Burt is renowned for her expertise in presenting dance performances both of a classical traditional nature whilst fusing western instrumentation with Cambodian melodies. Her older sister is Sophiline Cheam Shapiro, who I featured
here
and between them, they are continually honouring and expanding their Khmer heritage across the United States. Charya Burt (pictured) was five when the Khmer Rouge took over Cambodia and in 1982, at the age of 12, she left home to study at the Royal University of Fine Arts under the few surviving dance masters. As a member of the royal dance troupe, she performed in Cambodia, China and North Korea and in 1990 began teaching as a faculty member. Marrying an American teacher, she moved to California in 1993, establishing her own classical dance company and has since conducted dance workshops and taught in community and school programs, as well as performing extensively across the States. A San Francisco Chronicle article on Blue Roses is in
comments
. Visit Charya Burt's own website
here
.