Socheata returns home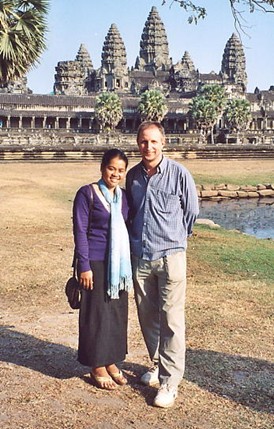 More than six years ago, the sister of Noung, my souvenir-selling friend from Angkor Wat, was married to her Japanese husband and moved to live in Japan.
Socheata
was 22 years old at the time and when I heard the news, I was taken aback as I'd seen her a matter of weeks before and she'd not mentioned it at all. Older and more mature than Noung and with a great sense of humour, I was saddened by the thought of never seeing Socheata again on my frequent visits to the temples. So imagine my surprise when I arrived in Siem Reap this January, to be told that Socheata was back home, living with her parents and working the family souvenir stall at Banteay Kdei temple.
My first stop the following morning was just inside the east gate of Banteay Kdei, opposite the Srah Srang lake, where I enjoyed an emotional reunion with Socheata, now 28 and back in Cambodia for the previous five months. It was great to see her again, she hadn't aged at all and her English was considerably better than before. But why was she back? It turns out that her husband, who was 50 at the time they met, had fallen in love with her on three visits to Angkor and at the third time of asking, she agreed to marry him. For the next six years they lived in northern Japan but also spent a lot of time travelling and she'd enjoyed visits to Europe, all of Asia and lots more besides. I was relieved to hear that her marriage had been a happy one but her husband had died six months before and she felt it was best to rejoin her family in their village near Srah Srang lake. Her selling pitch is Banteay Kdei and she's a real hit with the Japanese tourists with her masterful command of their language. We later met up again at Angkor Wat, where the above photo was taken and also for a meal at my guesthouse on my final night in Siem Reap. It was great to renew our friendship and we'll no doubt meet up again on future visits to Angkor.