The demise of Sin Sisamouth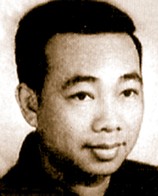 With the forthcoming bio of famous Cambodian female singer Ros Sereysothea about to be thrust upon us in the film
The Golden Voice
, it can only be a matter of time before a film of the life and times of Cambodia's revered male superstar,
Sin Sisamouth
, will be made. Sisamouth was the silky-smooth crooner who ruled the airwaves throughout the 60s and 70s during that golden age of Khmer film and music. His voice could be heard everywhere before his career, and those of most of the country's top artists, came to an abrupt halt with the arrival of the Khmer Rouge in power in 1975. Stories about the singer have been commonplace ever since, though a year ago, the story of his death, at the age of 40, came from a survivor of the killing fields that certainly carried a ring of truth. You can read the full story
here
in the archives of KI-Media. Sisamouth's music is also featured on the new documentary film
Don't Think I've Forgotten
, that celebrates that glorious period of Khmer music. For more background on Sin Sisamouth, click
here
.