Monsoon Wife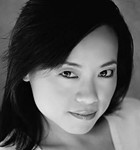 Another film that you may get an opportunity to see is
Monsoon Wife
, directed by Marlin Darrah and filmed entirely on location in Cambodia in 2001. It's been around a while and has been shown at numerous film festivals around the world, winning a few best film awards at the same time. A 92-minute feature film, shot on a tight budget of just $95,000, and Darrah's first after a career of documentary film-making, its a controversial story immersed in the world of sexual obsession and prostitution, with a percentage of revenue from the film finding its way to two NGO's devoted to ending child prostitution in SEAsia including the CWCC in Phnom Penh. The main character's love interest is Teeda, played by American actress Linda Shing. Just before filming began, Linda (pictured) was in touch by email seeking a flavour of what to expect in a part of SEAsia that she'd never been to before and following her part in this film, she's gone onto earn a regular role in the American hospital drama
ER
, a lead role in the ABC series Commander In Chief and other film roles. I've not seen Monsoon Wife myself, though I believe its available on DVD, so if anyone wants to send me a copy....
You can read more about the film
here
. I've also seen the film listed under the titles of Butterfly Man and Stealing Cambodia, though Monsoon Wife appears to be the main distribution title.