More recommendations for Heang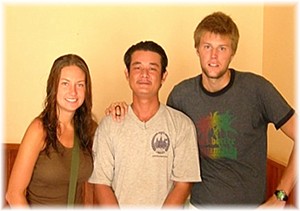 A pal of mine who lives in Siem Reap seems to make a lasting impression on everyone who meets him.
Heang
was a moto-driver in Sisophon when I first met him in November 2001 and we spent a couple of days tootling around Banteay Chhmar and Sisophon. We've hooked up a couple of times since, including a memorable return visit to Banteay Chhmar, and he now lives in Siem Reap where he makes his living driving tourists around the Angkor temple complex and elsewhere, either in his tuk-tuk or his camry car. The great part about it is that he makes an indelible impression on all who meet him. Take a couple of round-the-world trippers like Daija and Troy. They're currently in Siem Reap and with Heang's encouragement and advice, they're making a difference to the lives of villagers in the hamlet of Phnom Kaowl. The picture above shows Heang in the middle of the two Americans from San Francisco. They're supporting the villagers with food and water pumps and are encouraging their friends and family to help too. Read about their adventures
here
and see their photographs at their
fotki.com
website.
Heang, as well as appearing on my own website under my
recommended guides
webpage, has also found support from people like
Kim Cooper
and more recently
Fred Sun
, who's set up a website to sing his praises. And rightly so. Heang is someone who helps you to enjoy the sights, sounds and smells of Cambodia and its people because it means as much to him as it does to you.