Khmer Rouge culpability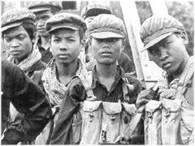 The forthcoming
Tribunal
to put on trial the senior leaders of Democratic Kampuchea who planned or gave orders, as well as those most responsible for committing serious crimes, should
at least
include surviving members of the DK's Central Committee and the senior officials and military commanders of the six Zones, into which the country was divided. Low level and middle-ranking Khmer Rouge cadre - at regional, district, sub-district and village level - are however unlikely to face prosecution, whilst the court's powers to indict will be limited to crimes committed in Cambodia between 17 April 1975 and 6 January 1979. The process to collect evidence and decide whom to charge and with what crimes has already begun. Experts like Stephen Heder, a leading scholar on Cambodia, is one of the prosecution's investigators. Overwhelming evidence of horrendous crimes has been amassed over the past two decades but the challenge for the prosecution will be to marshal enough evidence to prove individual guilt for particular crimes.
Crimes committed after 1979 will not come under scrutiny. Which means that the perpetrators of the murder of British de-miner
Christopher Howes
, will not face trial unless brought to book by the existing Cambodian legal system. Howes, and his Khmer interpreter Houn Hourth, were captured and killed by the Khmer Rouge in March 1996. Eyewitness testimony suggests that the order to murder Howes came from the recently deceased warlord Ta Mok but was allegedly carried out by men under his command near the northern Khmer Rouge stronghold of Anlong Veng. To-date, no-one has been charged with the Howes murder.