Tony Hinnigan - far too talented!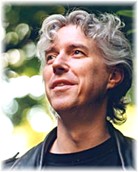 Some people are just far too talented!
Tony Hinnigan
is one such individual. If you haven't heard of Tony, you will have heard his contribution to music. It was his penny whistle that accompanied Celine Dion on the massive hit single, My Heart Will Go On, from the blockbuster film Titanic. His panpipes were the backbone of the haunting and evocative sound from The Mission and his soulful flute and whistle melodies stirred the senses in the action-packed Braveheart. His numerous film soundtrack credits also include Troy, The Mask of Zorro, Legends of The Fall, Patriot Games, Field of Dreams and so on. He's a workaholic and in great demand for his undoubted talents, both by heavyweight Hollywood film composers like James Horner but also as a member of the touring Michael Nyman Band. My first introduction to Tony was as one-half of the duo that popularised the panpipes with the group Incantation in the early 80s.
Tony's own website has now been on-line for a year. In addition to his regular and humorous news updates, there's a heap of mp3 downloads that range from his own track samples to video of him in the studio and much more. He's also just about to commence a series of weekly podcasts of radio shows presenting music that he likes. The shows, each of which lasts an hour, will be on his website for a week at a time and will be downloadable as an mp3 file. Go to Tony's own website at:
http://www.tonyhinnigan.co.uk
.
My own webpage on Tony and his music is at:
http://andybrouwer.co.uk/tonyhinnigan.html
.