Li-Da Kruger - documentary filmmaker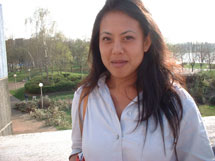 Li-Da Kruger
is the subject of a powerful documentary called Belonging that appeared on British tv and was screened at several international film festivals around the globe. Her journey to Cambodia to uncover the story behind her adoption on the eve of the Khmer Rouge takeover of Phnom Penh in 1975 was a gripping personal narrative, with tears and triumph, humour and heartache in equal measure. Li-Da co-produced the documentary which was shown on ITV in 2003 and the History satellite channel last year. I urge you to watch it if you get the opportunity.
It's part of a body of film and documentary work that she's produced working with the Fulcrum TV company as an assistant producer and researcher, before directing her own series of factual programmes shown on Channel 4 last year that dealt with personal experiences from survivors of the 2nd World War, and a series of programmes celebrating the 60s - The Beatles Decade, which will be shown on UKTV History next month. During my Cambodia travels at the start of this year, I bumped into Li-Da in Battambang where she was filming the work of the city's Circus, presented by the local NGO Phare Ponleu Selpak, that works with street kids. I didn't see the circus myself but Li-Da tells me its top-notch and well worth a visit. Read more about her own journey to uncover the past at:
http://andybrouwer.co.uk/lida.html
.