The Bayon & its mysterious faces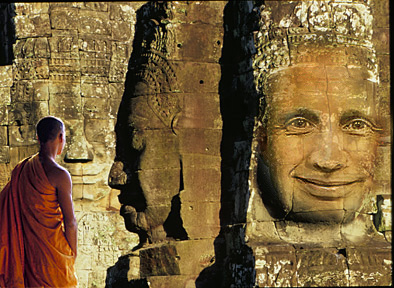 The exact likeness of the 216 mysterious faces of the Bayon temple, at the centre of the great city of Angkor Thom in northern Cambodia, has generated debate amongst scholars for many years. Most believe its the face of King Jayavarman VII, the ruler at the time of the temple's construction, or that of the compassionate Avalokiteshvara. Robert Bloomberg gave his own tongue-in-cheek take on the origin when he sent me the above photograph in 2002 with my own face superimposed. "A small tribute to your Buddha nature..." was how he phrased it.
Robert, a musician and filmmaker, is one of the world's leading contemporary stereoscopic photographers who has produced an exceptional and highly-acclaimed body of work with his 3-D shows being presented worldwide. In 2000 he produced the world's first 3-D Dive-In Theater in Mesa, Arizona, and in 2002 he won awards for his Temples of Angkor show. He was recently honored with a lifetime fellowship from the National Stereoscopic Association and is the Stereo Technical Advisor for the Photographic Society of America.