Lucky Child
The postman brought me a present direct from author Loung Ung today, a brand new paperback version of her second book,
Lucky Child
, published by HarperPerennial at a price of $13.95. Having already read the hardback from cover to cover, its an excellent book in my opinion and the paperback (below) contains some additional insights and interviews on top of the main story of Loung and her sister Chou, and their very different lives in America and Cambodia. Also through the postbox came an advance copy of Willa Schneberg's book of poems, Storytelling in Cambodia, to be published by Calyx Books in September. The author was a UN volunteer in Cambodia in the early 90s and her book has a foreward by poet U Sam Oeur, who released his own memoir, Crossing Three Wildernesses, last year. I'm not normally a poem reader so I'm looking forward to see how I get on with this collection.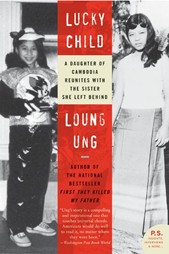 I mentioned in my blog yesterday about the increasing opportunities for tourism in the Battambang area of Cambodia and this prompted an email from Dickon Verey, who has spent a lot of time and energy in supporting a local NGO in Ksach Poy village, one of the 'new' tourist locations. Dickon pointed me in the direction of the NGO, called Friends Economic Development Association, or FEDA, and their website, which is well worth a visit, at: http://www.fedacambodia.com. Thanks Dickon, I'll do my best to pay the village, the NGO and their brand new House of Light and Knowledge community centre, a visit on my next stop-over in Battambang.