Battambang, Preah Vihear and Steel Pulse....
Battambang
, Cambodia's 2nd city, is one of my favourite places in the country. Laid-back almost horizontal, it has a good vibe and the people, much like everywhere else, are great. I was there in January and really enjoyed my stay. If you get the chance to sample the slow pace of life in Battambang, look out for my pal Sak, who'll make sure you get the best out of your visit. Contact Sak on
sanvasak@yahoo.com
. There's actually quite a bit to see and do in and around Battambang. The two museums are top-notch, the nearby Angkorean temples are definitely worth the effort and in the middle of this year, three new attractions are being promoted by the local Tourism office. Under a project named 'New Life Along Sangke River,' three villages - Watkor, Kompong Seima, and Ksarch Poy - will take centre-stage, as they think of new ways to attract tourism to their area.
Watkor village consists of 20 Khmer traditional houses built almost 100 years ago with the owners encouraged to wear traditional outfits and sell local food. As for Kompong Seima village, it will be a centre for the practice of primitive Khmer farming using traditional agricultural equipment, while in Ksarch Poy village, the inhabitants will grow oranges and many other fruit trees as well as vegetables in traditional style. The villages are sited 5 kilometres from the city. By the way, in 2005, there were 19,140 international tourists visiting the province, up 85% on the previous year.
I've just received a letter from Germany. It was sent by an American teacher who visited the cliff-top temple of
Preah Vihear
many years before I did. Here's his story:
"I was stationed at Ubon Royal Thai Air-Base from Mar-Oct 1973 as a USAF Security Police Officer. After the US Congress imposed a halt on funding the remaining war in Indochina on 15 Aug 1973 (which was pretty much limited to an aerial bombing of Cambodia out of bases in Thailand), we had a bit more time on our hands so a Thai interpreter, a RTAF Msgt Sergeant and a sergeant in our intelligence section decided to try and visit the ruins of Preah Vihear.
Renting a pickup truck (no contract required), we headed south to the border. We checked in with the Thai border police and the initial situation did not look good, whilst not told 'no,' the only way we could see the ruins was if the Cambodian soldiers occupying the ruins would let us in. We proceeded to the unmarked border where conversation ensued between the police and the soldiers. We eventually were allowed to see the entrance steps leading to the top and in an eventual 'can we see just a little bit more' gambit secured access to the site.
Cambodian soldiers family huts lined the long walkway from the small temple at the top of the steps to the larger site. Cleared areas amongst the ruins were also used as vegetable gardens. Buddhist monks were also present. There were, of course, absolutely no tourist brochures though we were told that one particular ruin was a library. The views down into the valley floor were spectacular and in checking the Preah Vihear photos on your website, some of them were the same shots I took.
The only historical information I could find about the site was that at one time it had belonged to Thailand until a border readjustment sometime in the 1960s. After my tour in Vietnam and Thailand (Nov 72-Oct 73) I was transferred to northern Japan. I remember hearing in 1975 a news announcement that Preah Vihear had finally fallen to the Khmer Rouge. I find it interesting that my reasonably new Nat Geo atlas of the world lists only two major ruins in Cambodia: Angkor Wat and Preah Vihear."
I too visited a deserted Preah Vihear, in March 2002. Here's my story:
http://andybrouwer.co.uk/pvihear.html
Below is a photo of yours truly and my pal Sokhom at the foot of the steps leading to Preah Vihear, taken in January 2005, on my 2nd visit to the temple.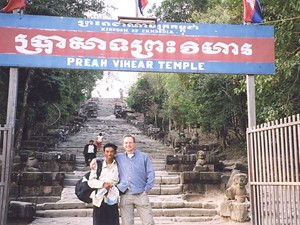 Reggae legends,
Steel Pulse
kick off their latest USA tour tomorrow with the first of 32 shows, after a handful of gigs in the Indian Ocean. Pulseheads Stateside get to see the band far too often for my liking (whoops, my jealous streak peeking through there) - but they are so popular, that it makes sense they spend so much of their time there. Pulse fly into Europe in early July for a few gigs in France, Belgium & Italy, before returning to the US, Canada and Jamaica (for the big Sunsplash event). Fingers-crossed they'll manage a UK gig or two before the year is out.